COMBUSTION , FLAME AND FUELS
by Yahvi Singh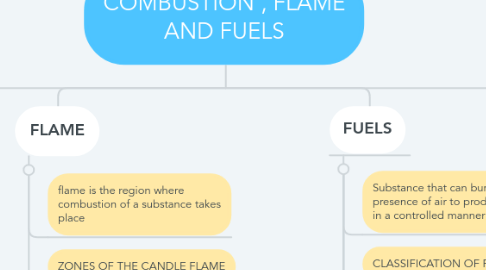 1. COMBUSTION
1.1. burning of substances in the presence of oxygen is called combustion
1.2. COMBUSTIBLE SUBSTANCES : catch fire easily in the presence of o2
1.3. NON COMBUSTIBLE SUBSTANCES : dont catch fire easily in the presence of o2
1.4. CONDITIONS NEEDED FOR COMBUSTION:-
1.4.1. presence of a combustible substance
1.4.2. heating the substance to its ignition temperature
1.4.3. TYPES OF COMBUSTION :-
1.4.3.1. SLOW COMBUSTION reaction takes place really slowly and at low temperature and it doesnt produce a large amount of heat
1.4.3.2. RAPID COMBUSTION takes place when a substance burns rapidly and releases large amount of heat
1.4.3.3. SPONTANEOUS COMBUSTION occurs when a substance unexpectedly bursts into flames and can cause serious fire
1.4.3.4. EXPLOSION is when a combustion is accompanied by a sudden release of heat , sound and gas .
1.4.4. presence of supporter of combustion
1.5. TYPES OF COMBUSTION :-
1.5.1. complete combustion is when sufficient amount of oxygen is provided for combustion
1.5.2. incomplete combustion is when there is no sufficient amount of oxygen provided for combustion
2. FIRE AND FIRE EXTINGUISHERS
2.1. A fire extinguisher is a portable apparatus which is often used to put out accidental fire. It contains a substance that cools the burning material, deprives the flame of oxygen or interferes with the chemical reaction occuring in the flame
2.2. TYPES OF FIRE EXTINGUISHERS
2.2.1. SODA-ACID FIRE EXTINGUISHERS
2.2.1.1. soda-acid fire extinguisher contain a solution of sodium hydrogen carbonate surrounding a glass bottle containing sulphuric acid.the knob (provided at the top of extinguisher) is pressed, thereby bottle breaks and the two solutions come in contact, thereby liberating carbon dioxide gas.The liberated carbon dioxide forces a stream of liquid on the fire. In this way, carbon dioxide surrounds the combustible substances and cut­ off the supply of air, thereby it assists to put out the fire.
2.2.2. CARBON DIOXIDE FIRE EXTINGUISHER
2.2.2.1. This type of fire extinguisher cylinder consists of carbon dioxide under high pressure. It can be used to extinguish the fire caused by flammable liquids. Since carbon dioxide is non-conductive, it is also used to extinguish electrical
3. FUELS
3.1. Substance that can burn in the presence of air to produce heat in a controlled manner
3.2. CLASSIFICATION OF FUELS :
3.2.1. on the basis of source
3.2.1.1. secondary fuel
3.2.1.2. primary fuel
3.2.2. on the basis of their physical state
3.2.2.1. solid fuel
3.2.2.2. liquid fuel
3.2.2.3. gaseous fuel
3.2.3. on the basis of their use
3.2.3.1. renewable fuel
3.2.3.2. non renewable fuel
3.3. the efficiency of fuels is judged by their calorific value . Calorific value of a fuel is the heat liberated when one gram of fuel burns completely in o2.
3.4. THE CHARACTERISTICS OF AN IDEAL FUEL ARE :-
3.4.1. it should be easy to store and transport
3.4.2. it should not release harmful gases on combustion
3.4.3. it should be easily available and cheap
3.4.4. the ignition temperature should be moderate .
3.4.5. the fuel should have high calorific value and a moderate rate of combustion
3.5. burning of fuels release a large amount of harmful gases in the air .
4. FLAME
4.1. flame is the region where combustion of a substance takes place
4.2. ZONES OF THE CANDLE FLAME
4.2.1. NON LUMINOUS ZONE is the zone of complete combustion . it has was vapours which burn in the presence of air
4.2.2. DARK ZONE is the zone of no combustion and is the coolest part of the flame
4.2.3. LUMINOUS ZONE is the zone of incomplete combustion