THE EURO VS THE POPULATION
by Caterina Monasterio Barandiaran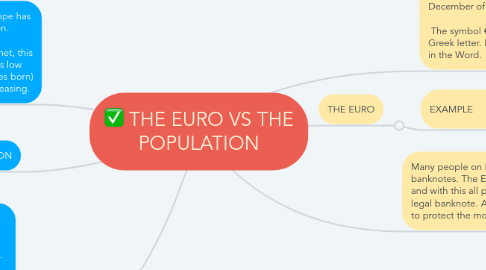 1. Many people on Europe use false banknotes. The EU has a scanning machine and with this all people in Europe has a legal banknote. Also the EU has a safe box to protect the money.
1.1. The Single Market in Europe began in 1986. The Single Market has some advantages: All goods are produced acording to the same stardards and all products make the same technical specifications.
2. The Euro is adopted on January 1 of 1999 by 11 members states. The name euro was officially adopted in Madrid on 16 December of 1995. The symbol € is based on the Greek letter. It is the first letter in the Word.
2.1. The EURO has some different coins: 1€ and 2€ . Also has cents 1€, 2€, 5€, 10€, 20€ and 50€ (cents). This currency also has banknotes that are: 5€, 10€, 20€, 50€, 100€, 200€ and 500€.
2.1.1. When a country enter in the European Union usually they has to adopt the euro. But some countries not use the euro for many reasons. The European Central Bank is located in Germany. The European Central Bank is responsible to maintainig price stabillity. This means that they try to other countries have the same money.
3. THE EURO
3.1. EXAMPLE
4. THE POPULATION
4.1. EXAMPLE
5. After Africa and Asia, Europe has the third largest population. Europe is an ageing continet, this means that the birth rate is low (there are fewer new babies born) and life expectancy is increasing.
5.1. Europe has a piramyd. This piyramyd say haw many people has born and dye. It is like the birth rate but the pyramid explain that how old is the person that dye and the number of persons of all the years. For example:
6. The migratory movements: Is a movement from one región to other. There are two te IMMIGRATION and EMIGRATION. Immigration: is the process of moving to a new country (people that come for your country). Emigration: People that go to other country to life. Also are main reasons for migraton: New job, city, study…
6.1. Interesting facts: About 739 million of people live in Europe and 500 million live inside the European unión. Spain has a population of more than 46 million.