HOW DID WE START VISITING THE OUTER SPACE?
by Marko Bustos Bolaños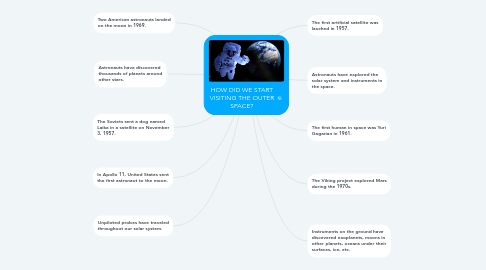 1. The first artificial satellite was lauched in 1957.
2. Astronauts have explored the solar system and instruments in the space.
3. Two American astronauts landed on the moon in 1969.
4. Astronauts have discovered thousands of planets around other stars.
5. The Soviets sent a dog named Laika in a satellite on November 3, 1957.
6. The first human in space was Yuri Gagarian in 1961.
7. In Apollo 11, United States sent the first astronaut to the moon.
8. The Viking project explored Mars during the 1970s.
9. Unpiloted probes have traveled throughout our solar system.
10. Instruments on the ground have discovered exoplanets, moons in other planets, oceans under their surfaces, ice, etc.