TOEFL
by Michel Hernandez Diaz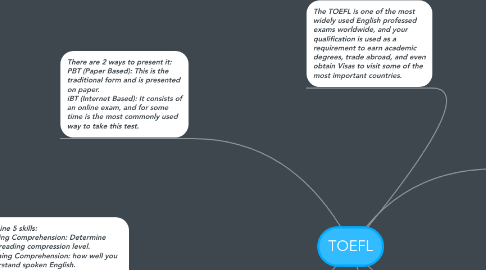 1. The TOEFL is one of the most widely used English professed exams worldwide, and your qualification is used as a requirement to earn academic degrees, trade abroad, and even obtain Visas to visit some of the most important countries.
2. There are 2 types: International: This is the official and has international validity. Whether you want to get a residency visa or study abroad, it's a must. It can be presented in two ways; iBT and PBT Institutional: This is pencil and paper, its validity is only nationally
3. Ibt: Skill Score Level Reading Comprehension 0 to 30 Low (0 to 14)Intermediate (15 to 21)High (22 to 30) Listening Comprehension 0 to 30 Low (0 to 14)Intermediate (15 to 21)High (22 to 30) Speaking 0 to 30 Good (26 to 30)Regular (18 to 15)Limited (10 to 17)Bad (0 to 9) Writing/ Structure 0 to 30 Good (24 to 30)Regular (17 to 23)Limited (1 to 16) Total: 0 to 120
4. There are 2 ways to present it: PBT (Paper Based): This is the traditional form and is presented on paper. iBT (Internet Based): It consists of an online exam, and for some time is the most commonly used way to take this test.
5. Examine 5 skills: Reading Comprehension: Determine your reading compression level. Listening Comprehension: how well you understand spoken English. Speaking: ability to express yourself orally in English. PBT mode does not include this section. Writing: Determine how advanced your writing skills are. Structure: Examine your grammar, how you structure phrases and use vocabulary based on context.
6. It qualifies as follows: Pbt: Section/Points Listening Comprehension 31 to 68 Reading Comprehension 31 to 68 Writing/ Structure 31 to 67 Total: 310 to 677