Forbidden Meat Smuggler
by Muhamad Syafiq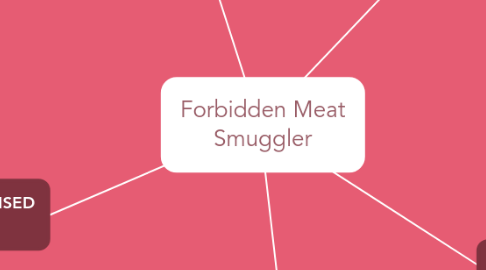 1. CAUSES: WHY AND HOW THIS HAPPENED?
1.1. Weakness involve the documentation process between imported meat to be re-exported to foreign countries and imported meat for domestic markets.
1.2. Meat imported into this country should be re-exported but not exported for muggling process
2. IDEA/ACTION/SOLUTION
2.1. FOR AUTHORITY
2.1.1. 1. Tighten the enforcement (increasing amount of fines and imprisonment
2.1.2. 2. Tighten the system at main entrance of imported product.
2.1.3. Implement traceability system
2.1.4. Develop lab analysis for detection any critical ingredients
2.2. FOR INDUSTRY PLAYER
2.2.1. 1. Boost the nation's food defense by get certified.
2.2.2. 2. Know the supplier and their product
3. WHO INVOLVE
3.1. A cartel smuggle uncertified frozen meata from Argentina, Brazil, Ukraine and China by repackaging it with fake halal labels before selling the products across the country.
3.2. The officer had been investigated because he failed to submit valid import documents during inspection
4. ACTION TAKEN BY AUTHORISED BODY
4.1. The government carries out halal inspections of slaughterhouses, factories, supermarkets and restaurants, adding that special joint operations are carried out with government agencies throughout the country.
4.2. Offense under the Trade Descriptions (Certification and Labeling of Halal) Order 2011 for someone to falsely say that their goods are halal-certified or "Muslim-friendly."
4.3. ENFORCEMENT INVOLVED
4.3.1. JAKIM, MAQIS, KPDNHEP
5. IMPLICATIONS ON AUTHORISED BODY AND SOCIETY
5.1. The integrity of halal market industry will be triggered as customers will lost confidence to buy the import meat
5.2. It will impair the image of the authorised body which consumer may thought lack of enforcement done by them