I Have A Dream- Martin Luther King - American Right Activist
by Syna Sachdeva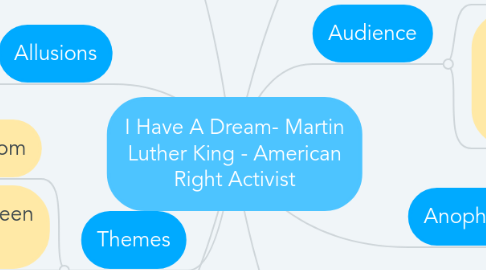 1. Pathos
1.1. Powerful imagery "chains of discrimination", "long night of their captivity"- visualise the suffering of black people
1.2. Continuous use of "we" "us", "my people"- engaged audience
2. Audience
2.1. Originally in Washington 250,000 - moved by the pathos of the speech
2.2. Today celebrated as one of the greatest speeches- common themes still prevalent today - Especially after the BLM movement in USA
2.2.1. "I Have A Dream" widely acclaimed quote
3. Ethos
3.1. Appeals to similar qualities in "four little children ..will not be judged by the color of their skin but by the content of their character."- audience also hopes for a better future
3.2. American Geography in last paragraphs- talks about almost every US state- thorough with current affairs
4. Allusions
4.1. Alludes to Isaiah 40:4 "I have a dream that every valley shall be exalted"
4.1.1. King- religious man
4.2. Alludes to Amos 5:24 "But let justice roll down like water ..."
5. Themes
5.1. Freedom
5.1.1. "a Negro in Mississippi cannot vote" same rights
5.2. Equality and brotherhood between Black and White
5.2.1. "white brothers", together and united, not against
5.3. Justice for the suffering endured by the black people
5.3.1. "unspeakable horrors of police brutality,"
6. Anophora
6.1. I have a Dream - 8 times- wishful thinking- igniting hope
6.2. "freedom ring" 9 times- auditory imagery
7. Logos
7.1. "would be guaranteed the "unalienable Rights" , reference to Emanicipation Proclamation. logical arguments, legal jargon
8. Metaphor
8.1. "Cash in the check","bad check..marked with insufficient funds" - relatable for the audience