GENERAL THINKING PROCESS
by Mª Angeles Abenza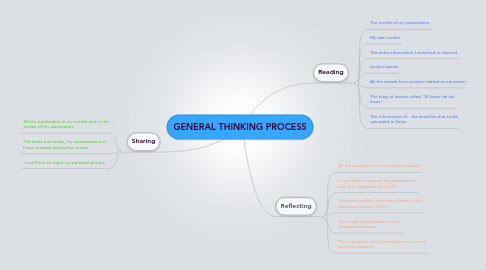 1. Reading
1.1. The tumblr of my classmaters
1.2. My own tumblr
1.3. The extra information I searched in internet
1.4. Linda´s tweets
1.5. All the tweets from people related to education
1.6. The blog of stories called "El bazar de los locos"
1.7. The information of the activities that Linda uploaded in Sakai.
2. Sharing
2.1. All the publication in my tumblr and in the tumblr of my classmaters
2.2. The twitts that Linda, my classmaters and I have created during the course.
2.3. I use Flickr to share my personal photos.
3. Reflecting
3.1. All the publication in my personal tumblr
3.2. I used frickr to upload the presentation with the 10 photos of my life.
3.3. The twitts and the retweets related to the education based in ICT´s
3.4. The Linda´s explanations in the theoretical classes
3.5. The instructions that Linda gave to us in the practical sessions