Tiny house Ideas
by MV - 09ZZ 703535 Chinguacousy SS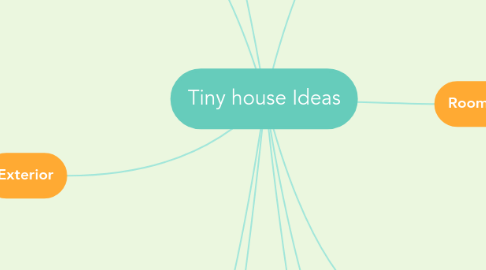 1. Colour and theme
1.1. Bohemian x Minimal
1.2. light and simply colour
1.3. white, light pink, light green
2. Rooms
2.1. One bedroom; consisting a small desk and bed
2.2. Family room; 2-3 seater sofa, a single couch or another type of one seater set
2.3. Kitchen; one wall kitchen with island doubling as dinning table
2.3.1. White cabient
2.3.2. Marble counter top
2.3.3. Waterfall island
2.4. bathroom; standing shower, toilet, and one sink
2.4.1. Tiles are marble
2.4.2. white counter top
2.4.3. white shower tiles
2.5. cabinet for washing machine
3. Lighting
3.1. Large windows for natural light
3.2. Sky light in loft
3.3. ligths in each room
4. Plants
4.1. Succulents
4.2. hanging plants
4.3. small trees
4.4. garden outside
5. Exterior
5.1. walls: white
5.2. Light brown wood roof
5.3. Trees and flower outside
5.4. small 2 seater swing
5.5. Pool
5.6. Lunch table
5.7. Pond with trail
5.8. Outdoor seating with fireplace
6. Flooring
6.1. full hardwood
6.1.1. dark grey, dark brown, or light brown
6.2. washroom tiles
6.2.1. marble
7. Location
7.1. Fresno, California
7.1.1. California has many tiny house comunities
7.1.2. Fresno is the best place for tiny house living
7.1.2.1. Fresno is a city located in San Joaquin Valley
7.1.3. Freshno has passed the most groundbreaking and ongoing laws.
7.1.3.1. In 2016, the city changed its code to allow tiny homes, with and without wheels, to be considered backyard cottages
8. window
8.1. 2 rectangular windows each on one wall of bedroom and living room.
8.2. big front door made of glass
8.3. one giant window each for the living room and bedroom
9. Out door living
9.1. small deck for steps to get down the stairs
9.2. seating area
9.3. garden with coulourful flowers and trees
9.4. trees around house for privacy
9.5. big outdoor table to host dinners and to entertain
10. Storage and space
10.1. drawers under bed to store clothes and other belongings.
10.2. bar table with 2 seats which folds to become a dining table
10.3. laptop desk as side table which can be easily brought in front of sofa to act as a desk
10.4. no dishwasher since tiny home is meant for 1-2 people, therefore minimal dishes to clean