IN MY MIND I AM ALWAYS THE BEST THINKER ,PERSON
by Nisit solanki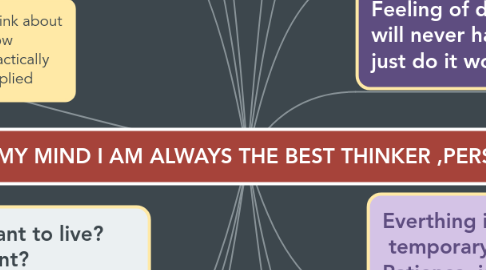 1. The first step is to establish on mind it is possible; then probability will occur."
2. Always think what is your goal after 1 second? Focus
3. I don't care what people think, what they say
4. I really love my life So my race is with Myself
5. Heath focus 30 minutes exercise
6. Po.wtch F.F.G not Not Satisfaction Feeling of regret Love हार्मोन में कमी Not happiness
7. It's opinion. i respect every feeling emotion opinion But in my mind i am tougher than this
8. Feeling of doing right will never happen just do it work now
9. Everthing is temporary Patience is key
9.1. Feeling Emotion
9.2. Pain Thought
10. First say to yourself what you imagine; Second say yourself I do what i want
11. Wrong imagination; Brain ma uncertainty temporary pleasure Not fun,not happy
12. Why do you want to live? What's the point? What inspires you? What do you love about the Future?
13. Think about How Practically Implied
13.1. Pain
13.2. Practice
13.3. Persistence
13.4. Patience
13.5. Purpose
13.6. Simplicity
13.7. Question
13.8. Vision
13.9. Silent
14. 1 day all men die life is too short I am mortal