THE CASK OF AMONTILLADO Belen Rivera
by Belen Rivera Verdugo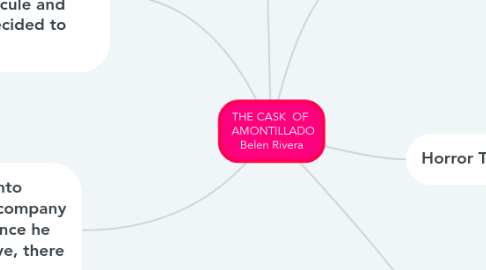 1. EDGAR ALLAN POE
1.1. Was born on January 19, 1809 in Boston, Massachusetts.
1.2. Poe in 1835, he became the editor of the Southern Literary Messenger in Richmond
1.3. He published his most famous stories and poems such as: "The Fall of the House of Usher" "The Tell-Tale Heart"
1.4. He died in 1849
2. Horror Tale, published 1846
3. Characters
3.1. Fortunato. He is a man who likes to make fun of Montresor and that will bring a very great consequence
3.2. Montresor. He is the one who decides to take revenge on Fortunato.
4. The main theme is the murder of Fortunato at the hands of Montresor because for a long time he received ridicule and mistreatment and decided to take revenge
4.1. Montresor pretended to be nice and since Fortunato trusted him, he never imagined that everything was a sham and that the only thing Montresor wanted was to kill him.
5. Montresor tricked him into getting Fortunato to accompany him to the vaults, and since he had made everyone leave, there was no one to see them.
5.1. Everything Montresor planned worked perfectly, no one saw them and Fortunato fully agreed to accompany him to "resolve some doubts."
6. Montresor and Fortunato advanced, but Fortunato's health was very bad and getting worse and worse, he had a terrible coughing attack due to the bad state of the catacombs / vaults and also Fortunato had drunk a lot of alcohol that night and his strength and vitality decreased every one more time.