HISTORICAL EVENT
by Astrid Dyah Azzura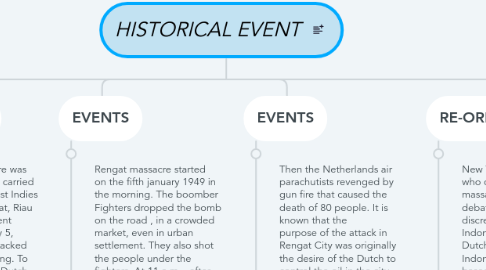 1. ORIENTATION
1.1. The Rengat Massacre was a massacre that was carried out by the Dutch East Indies Royal Army in Rengat, Riau Province. This incident occurred on January 5, 1949. The Dutch attacked Rengat in the morning. To occupy Rengat, the Dutch deployed 180 special forces under Lieutenant Rudy de me. They looted, raped and executed members of the TNI, civil servants and civilians. The bodies of the victims were dumped in the Indra Giri river.
2. EVENTS
2.1. Rengat massacre started on the fifth january 1949 in the morning. The boomber Fighters dropped the bomb on the road , in a crowded market, even in urban settlement. They also shot the people under the fighters. At 11 a.m. , after the plane had disappeared , there were 180 air parachutists fielded in Sekip district near Rengat. After that the head of air parachutists named Rudy de me got tremendous war resistance from Indonesia's military.
3. RE-ORIENTATION
3.1. New TopicThe number of people who died in the Rengat massacre is still under debate. There is a large discrepancy between Indonesian sources and Dutch documentation. An Indonesian source that is based on oral narrative says nearly 2,000 people were killed. As for the Dutch documentation in the Memorandum of Excessennota (Memorandum of excess) in 1969, the total number of victims was 80.
3.1.1. A Dutch prosecutor in charge of the Riau area said that there were sources who exaggerated because of one-sidedness. And in the end the Rengat Massacre was commemorated by the Indragiri Hulu Government and society as a historic day
4. EVENTS
4.1. Then the Netherlands air parachutists revenged by gun fire that caused the death of 80 people. It is known that the purpose of the attack in Rengat City was originally the desire of the Dutch to control the oil in the city area. They blindly shed blood in Rengat City so that they could occupy the city.