STUDENT BEHAVIOR
by Liv Orr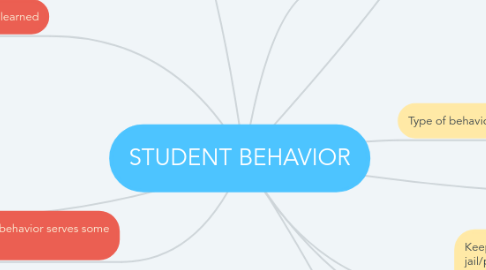 1. Type of behavior
2. School to Prison Pipeline
2.1. Adopt a social/emotional lense
2.2. Know your students and develop cultural competency
2.3. Plan and deliver effective student-centered instruction
2.4. Move the paradigm from punishment to development
2.5. Resist the criminalization of school behavior
3. DSC
3.1. What is prompting a behavior?
3.2. What is encouraging or sustaining that behavior?
3.3. What might discourage that behavior from occurring in the future?
4. Behavior is learned
5. Repeated behavior serves some function
6. Motivation for positive behavior & increasing it
7. Keeping children out of jail/prison due to behavior in school
8. May be more beneficial to keep high-risk students in class to help them stay in school
9. Decreasing suspension
10. Find the root of the behavioral problem and address it.
11. Develop student learning rather than stop it due to behavior