Research has found a link between junk food and poor health. Describe the connection and evaluate the effectiveness of government efforts to improve the nation's diet and lifestyle.
by Nikki Parker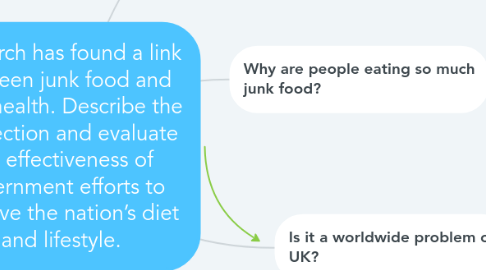 1. How much of a problem is obesity?
1.1. What is the link between junk food and poor health?
1.2. What illnesses are junk food eaters at risk of?
1.2.1. Type 2 diabetes
1.2.2. High blood pressure
1.2.3. Heart disease
1.2.4. Stroke
1.2.5. Certain Cancers
2. Is it a worldwide problem or UK?
2.1. What are the UK government doing about the issue?
2.1.1. What medical options are available?
2.1.1.1. Drug therapy
2.1.1.2. NHS weight loss app
2.1.1.3. Bariatric surgery
2.1.2. What lifestyle options are available?
2.1.2.1. NHS Active 10 app
2.1.2.2. Change4life campaign
2.1.2.3. OneYou campaign
2.1.3. How is the issue approached in education?
2.1.3.1. National curriculum reforms in 2014
2.1.3.2. Ofsted report — More PE
2.1.3.3. Better school meals
2.1.3.4. Lessons in food and nutrition
2.2. Is it working?
2.3. What more can be done?
3. Why are people eating so much junk food?
3.1. Takeaway food
3.2. Frozen/ convenience foods
3.3. Busy, hectic lives.
3.4. Poor domestic education?