VACCINATION OF PSG MEMBERS
by GARCIO, MA. CLARISSE - HUMSS 12C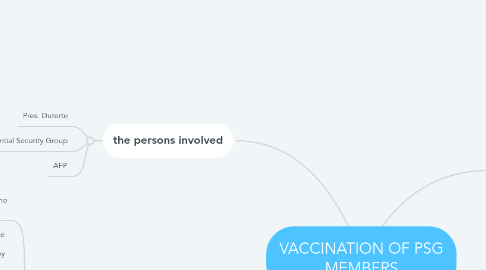 1. the persons involved
1.1. Pres. Duterte
1.2. Presidential Security Group
1.3. AFP
2. members of the oppositions
2.1. AFP, FDA, and the Government
2.2. Citizens and Critiques
3. inequality and/ or injustice involved
3.1. the vaccine used were smuggled and is not regulated by the FDA
3.2. the first people to be vaccinated were not Healthcare workers who actually needed it the most.
3.3. Filipinos will have lower confidence level in the future vaccinations.
3.4. In the actual roll out of the vaccines, there is a big chance that frontliners/healthcare workers will not be the first one to be vaccinated.
4. most effective resolution for this issue
4.1. Fair and just investigation as to who smuggled the vaccine.
4.2. PSG who has been vaccinated must face consequences in their actions, knowing that the vaccine are not yet approved by FDA.
4.3. FDA should have stricter regulations regarding the vaccines.
4.4. The person/group behind the smuggling must be imprisoned.
4.5. The Government should stop defending the issue.
4.6. President Duterte should remove the PSG members who accepted to be vaccinated.