GLOBALIZATION
by Tomo Euryl San juan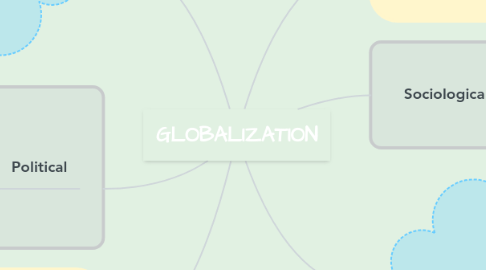 1. Technological Advancement
1.1. The spread of technology across borders is primarily accelerated by technological diffusion, creating ties between individuals or groups of individuals using common technological and scientific practices.
1.1.1. INNOVATION
1.1.2. DEVELOPMENT
1.1.3. COMMUNICATION
2. Financial Integration
2.1. An aggregate term that refers to the rising global interconnections generated by cross-border financial flows. Financial integration refers to the relations between an individual country and foreign capital markets.
2.1.1. MONETARY
3. Political
3.1. The amount of political cooperation that occurs between various countries means that some of the government's decisions are made on an international basis.
3.1.1. NGO
3.1.2. UN
3.1.3. WHO
4. Sociological
4.1. A continuous process involving intertwined shifts in society's economic, cultural, social, and political spheres.
4.1.1. Brings upon the life and work of people their families and society's around us.
5. Cultural
5.1. The experience of daily life, as informed by the distribution of goods and ideas, cultural and artistic expressions, represents the standardization of cultural expressions throughout the world.
5.1.1. BELIEFS
5.1.2. UNDERSTANDING
5.1.3. UNITY
6. Economic Integration
6.1. The interconnectedness of economies by trading and resource exchange.
6.1.1. INVESTORS
6.1.2. TRADING
6.1.3. BUSINESS VENTURES