Cultivating Creativity: How to innovate, create, and get out of your own way while doing it
by Lloyd Carew-Reid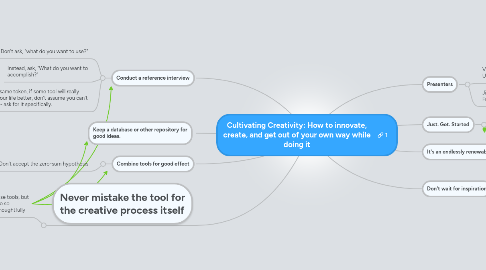 1. Presenters
1.1. Vicenc Feliu, Villanova University School of Law
1.2. Jill Smith, University of Maryland Francis King Carey School of Law
2. Just. Get. Started
2.1. http://www.youtube.com/watch?v=RYlCVwxoL_g
3. It's an endlessly renewable resource
3.1. The more you use it, the more you have
4. Don't wait for inspiration
4.1. "Inspiration is for amateurs" - Chuck Close
4.2. If your job is to create, you just need to do the work.
5. Conduct a reference interview
5.1. Don't ask, "what do you want to use?"
5.2. Instead, ask, "What do you want to accomplish?"
5.3. By the same token, if some tool will really make your life better, don't assume you can't have it - ask for it specifically.
5.3.1. http://movieclips.com/YURPm-the-princess-bride-movie-if-we-only-had-a-wheelbarrow/52.52/76.26/
6. Keep a database or other repository for good ideas.
7. Combine tools for good effect
7.1. Don't accept the zero-sum hypothesis
8. Never mistake the tool for the creative process itself
8.1. Use tools, but do so thoughtfully