With reference to a major Internet business, address the question,"What is the fundamental basis of Internet commerce?"
by
Nicholas Gaff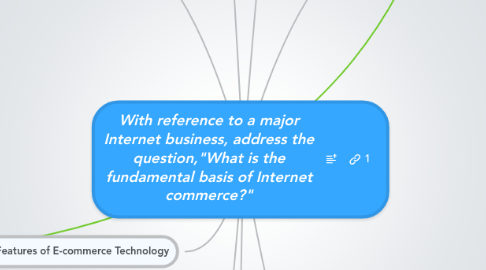 5.0
stars -
1
reviews range from
0
to
5
Welcome to The Internet Explorers mindmap for Assignment 2. Some work has already begun on the various areas of E-commerce, from brands, models, and technology. Feel free to add or comment on the nodes by using these Note boxes. Enjoy. Nicholas Gaff
Google
Ebay
Facebook
iTunes
PayPal
YouTube
I am placing Twitter as a Major Internet "Business". It is currently undertaking a rearrangement of it's business model to ensure generate revenue. http://thenextweb.com/socialmedia/2012/03/20/twitter-starts-showing-you-ads-for-brands-you-dont-follow-on-both-desktop-and-mobile/
Amazon.com
Business to Business (b2b)
Business to Consumer (b2c)
Consumer to Consumer (c2c)
Peer to Peer (p2p)
Mobile commerce
User Experience
Trust/Credibility
Content
Accessibility
Speed
Privacy
Elements of a business model
Value Proposition
Revenue Model
Market Opportunity
Competitive Environment
Competitive Advantage
Market Strategy
Organisational Development
Management Team
Features of E-commerce Technology
Protean
Ubiquitous
Global reach
Universal standards
Interactivity
Personalisation / Customisation
Information density
Social Networking technologies
Tangible and Intangible Goods
Connectedness
Customers
Why do customers need to use the internet to purchase services or products? What is the benefit for the end consumer?
Advantages
Disadvantages
Network Economy
Attention Economy
"The Culture of Metrics"
Customer Service
Innovation
Investment
Exponential Growth
Customer set