With reference to a major Internet business, address the question,"What is the fundamental basis of Internet commerce?"
by
Nicholas Gaff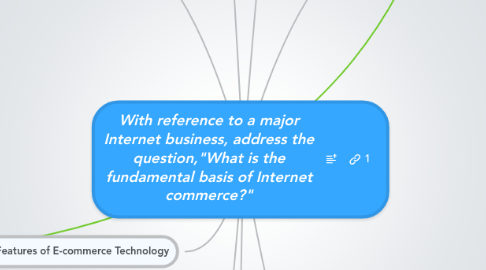 5.0
stars -
1
reviews range from
0
to
5
Welcome to The Internet Explorers mindmap for Assignment 2. Some work has already begun on the various areas of E-commerce, from brands, models, and technology. Feel free to add or comment on the nodes by using these Note boxes. Enjoy. Nicholas Gaff
Google
Ebay
Facebook
iTunes
PayPal
YouTube
I am placing Twitter as a Major Internet "Business". It is currently undertaking a rearrangement of it's business model to ensure generate revenue. http://thenextweb.com/socialmedia/2012/03/20/twitter-starts-showing-you-ads-for-brands-you-dont-follow-on-both-desktop-and-mobile/
Amazon.com
Business Model, Brokerage Model, Business to Consumer (b2c), Consumer to Consumer (c2c), Business to Business (b2b), Virtual Marketplace, Transaction Broker, Provides third party exchange rate for international purchases, Search Agent, Advertising Model, Business to Business, Merchant Model, E-Tailer, Business to Consumer, Affiliate Model, Banner Exchange - users feature Amazon banners on their webpages, in return get paid a % if click through generates sale.
Consumer Advantages, Long Tail, Social Network, Peer Reviewed Ratings, Social Media Sharing, Immediate Price Comparison, Recommended Products
Market Advantages, First Mover Advantage?
Business to Business (b2b)
E-Distributor
E-Procurement
Exchange
Industry consortium
Business to Consumer (b2c)
Portal, Horizontal, Vertical / Specialised, Search
E-Tailer, Virtual Merchant, Bricks-and-Clicks, Catalogue Merchant, Manufacturer-Direct
Content Provider
Transaction Broker
Market Creator
Service Provider
Community Provider
Consumer to Consumer (c2c)
Peer to Peer (p2p)
Mobile commerce
User Experience
Customer Service/Support
Accessibility
Functionality
Navigation
Trust/Credibility
Peer Review
Online Community
Content
Niche Markets
Long Tail
Accessibility
"Always on" 24/7
Breakdown of geographical barriers
Diversity of technologies
Division between connected and disconnected
Speed
Privacy
Elements of a business model
Value Proposition
Revenue Model
Advertising
Subscription
Transaction Fee
Sales
Affiliate
Market Opportunity
Product Life Cycles
Consumer attention span
Competitive Environment
Competitive Advantage
First-Mover advantage
Second-Mover advantage
Complementary Resources
Unfair competitive advantage
Perfect Market
Leverage
Market Strategy
Organisational Development
Management Team
Features of E-commerce Technology
Protean
Ubiquitous
Global reach
Globalisation
Decentralisation
Diversification
Universal standards
Rapid technological advancement
Interactivity
Personalisation / Customisation
Information density
Social Networking technologies
Many-to-Many Communication
Tangible and Intangible Goods
Long "shelf" life (Long Tail)
Digital Products
Connectedness
Customers
Why do customers need to use the internet to purchase services or products? What is the benefit for the end consumer?
Advantages
Niche Content
Specific
Convenience
Time
Abandonment of location
Search engines
Cost effective
Immediacy, Price comparison, Product reviews, Purchase transaction
Global accessibility
Disadvantages
Impersonal customer service
Miscommunication
Security
New skills necessary
Infrastructure necessary for connectedness
Fear of new technologies
Misuse of information
Network Economy
"Age of Access" (Rifkin 2001), Ownership versus Access, Speed, Increased research and marketing costs, Volatility, Advancement of Technology, Commodification of Play
Departure from Industrial Economy
Intellectual Property
Temporality
Abundance = value, Value in "free"
Emphasis on first mover advantage
Attention Economy
Illusory Attention
Value to the Individual
Temporality
Originality
Power through level of "enthrallment"
Breakdown of organisational barriers
Copying promotes attention, Intellectual Property
Identity
Advertising Revenue model
"The Culture of Metrics"
search relevance rankings
home page design
consumer behaviour, network economy, attention economy
software based recommendations
data driven automation, merchandising, recommendations, ad generation and bidding
Customer Service
Web Design
Standard e-tail facilities
Gift economy, free shipping, read it first, customer reviews
Amazon shopping experience
Large range of products, The Long Tail
Competitve/Low prices
Innovation
Third party use of Amazon technologies, 'Syndicated Stores' program, Amazon Web Services (AWS), Licensing
Developing technology internally, first mover advantage, innovator's dilemma, second mover advantage
Efficiency/Optimisation, Links to Metrics, Links to Attention Economy, Links to Customer Service
Investment
Links to Innovation
Kindle, Links to Network Economy, Links to tangible/intangible goods
Partnerships, Links to Network Economy, Expansion into new markets
"Law of Churn"
Exponential Growth
Network Effects
Large range of products, The Long Tail
Dominant market share
Commission from partnerships, Waterstones.co.uk, Borders.com, Toys R Us, Earning income off its competitors, Operating alongside competitors to offer customers wide range of products, Links to Network Economy
Commission from Amazon Marketplace
Amazon Merchants@, fixed fees, commission
"Shelf space", charging for prime position on website
Sales
Co-branded credit card agreements
Customer set
Content creators
Consumers
Sellers
Enterprises