CONNECTING WITH FAMILIES (Chapter 25)
by Jessica Galizia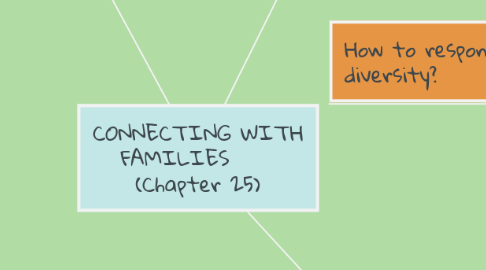 1. PARTNERSHIP PRACTICES
1.1. Parents helping in the centre or classroom
1.2. Communication about children's literacy progress
1.2.1. Parent-educator conference
1.2.1.1. To discuss child's development needs, interests and problems and solutions.
1.2.2. Home-centre/ School messages
1.2.2.1. Less formal than previous method. Letters or notes. Most useful for daily communications.
1.2.3. Literacy portfolios
1.2.3.1. Provide information about children's literacy growth and achievements. Organised collection of photographs, samples of children's work, educators' observations and notes, transcribed conversations etc.
1.2.4. Sharing and celebrating
1.2.4.1. Newsletters, bulletin board
1.3. Parent surveys
1.4. Parent awareness
1.4.1. The literacy workshop
1.4.2. Information sheets
1.4.3. The parent resource room
1.5. Decision-making
1.6. Take-home literacy resources
1.6.1. Lending Library (for books, puppets recorded stories)
1.7. Take-home literacy bags
2. Family literacy
2.1. Children develop their literacy competency well before they enter the school (Piasta, 2016)
2.2. ORAL PRACTICES THAT SUPPORT LITERACY DEVELOPMENT
2.2.1. Discussions during storybook reading, extended conversations during meal/play time, explanation and discussion of things beyond the child immediate environment or situation, encouraging children to use language for different purposes, talk time that encourage children to make up stories, questioning that promotes critical and creative thought processes
2.3. EMERGENT LITERACY
2.3.1. A phase of literacy learning that paves the way for, and eventually progresses to, standard reading and writing (p. 572)
2.3.2. Areas of development (see list page 572)
2.4. FAMILY LITERACY DIVERSITY
2.4.1. It is different among families as it is characterised by a unique set of social and cultural features
3. How to respond to family diversity?
3.1. Educators must determine children's current literacy levels and the types of family literacy they have experienced.
3.1.1. Literacy learning is enhance when educators recognise children's
3.1.1.1. FUNDS OF KNOWLEDGE
3.1.1.1.1. Pedagogical treatment of children's funds of knowledge as cultural resource for teaching and learning support their learning engagement
4. Initiative: Family and community literacy (pp.575-576)
4.1. BETTER BEGINNINGS (WA)
4.1.1. The program has been so successful that it has been extended to include older children ( 4-5 years) and children living in remote Aboriginal and Torres Strait Island communities.
4.1.1.1. ABORIGINAL PROGRAM includes: Making and using culturally relevant books, Expedition to country, Commercially produced picture books were introduced to preschool children.
5. PARENT-EDUCATOR PARTNERSHIP (pp. 576-578)
5.1. Characteristic of successful and effective partnership
5.1.1. Two-way communication
5.1.2. Mutual respect
5.1.3. Common literacy learning goals
5.1.4. Opportunities for parent participation
5.1.5. Flexibility and variety of partnership practices
5.1.6. Respect for diversity
5.2. Numerous benefits of this partnership (see page 578-79 for full list)