Cognitive Principles
by Miguelangel escultor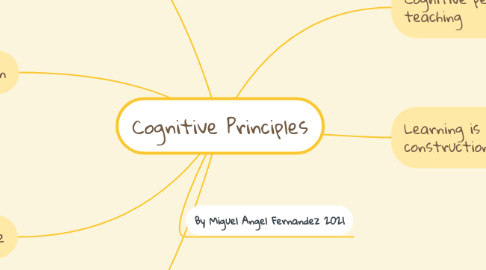 1. Cognitive perspective of teaching
2. Learning is a process of internal construction
3. Significant learning
3.1. Learning means learning
3.2. Conditions for meaningful learning to occur: - Logical and psychological significance - Motivation
3.3. - Rescue previous knowledge - Motivates intellectually active participation - Apply the concept maps
4. Problem resolution
4.1. Learning is acquiring the ability to solve new situations
4.2. General skills transfer alongside domain-specific knowledge
4.3. - Contextualize problems in everyday situations - Promotes exchange for problem solving - Avoid mechanical repetition of solutions
5. Conceptual change
5.1. Learning is justifying the theories implicit in the empirical evidence
5.2. Implicit theories are often resistant to pedagogical intervention
5.3. - Promotes cognitive conflict through teacher guidance and / or group discussion
6. Multiple intelligences
6.1. Each type of intelligence has a different way of learning
6.2. There are eight types of intelligences: Linguistics. logical mathematical, spatial, psychomotor, musical, naturalistic, intrapersonal and interpersonal.
6.3. - Adapt the contents to the five possible access points: narrative, logical mathematical, foundational, aesthetic and experimental.
7. By Miguel Angel Fernandez 2021
8. Resources
8.1. Gage (1972). Theories of Teaching. Online in: http://shodhganga.inflibnet.ac.in/bitstream/10603/23473/4/04.%20chapter%20-%20ii.pdf
8.2. POZO, J.I. (1994), "Ch. 1: Learning to solve problems and solve problems to learn ", by María del Puy Pérez Echeverría and Juan Ignacio Pozo Municio and" Cap. 5: Problem solving as a procedural content of compulsory education ", by Juan Ignacio Pozo Municio and Yolanda Postigo Angón, in: Problem solving, Santillana, Madrid, pp. 14 to 50 and pp. 5; pp. 180 to 212.
8.3. STONE WISKE, M. (1999), "Cap. 2: What is understanding? "," Chapter 3: What is Teaching for Comprehension? ", In: Martha Stone Wiske, Karen Hammerness, Daniel Gray Wilson, Teaching for understanding, Paidós, Buenos Aires, pp. 69, pp. 95 and pp. 127.