Traditional portrait photography versus innovative way of taking portraits through facetime
by Beti Sk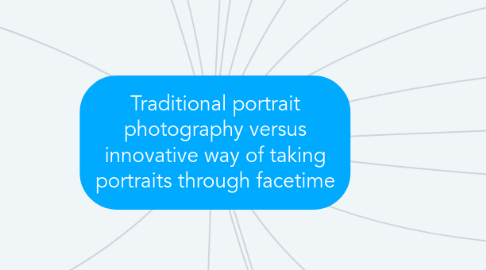 1. Self-isolation and how to stay creative
1.1. Take pictures via facetime, zoom
2. Face-time - growing photography trend
2.1. Anastasia Jobson
2.2. Alessio Albi
2.3. Tim Dunk
3. FaceTime image quality is not amazing.
3.1. Add grain, retro feel
4. Creativity and vision are the key
4.1. Props: sunglasses, jewellery - make up - interesting wardrobe -mirrors, windows
5. Smartphone, facetime application and good internet connection are required
5.1. Important factors: Lightning, location, wardrobe, makeup and communication !
5.1.1. Test imges
6. History of portrait photography
7. Famous portrait photographers
7.1. Nadar
7.2. Adolphe Disdéri
7.3. Julia Cameron
7.4. A.De Meyer
7.5. Angus McBean
7.6. Yousuf Karsh
7.7. Cecil Beaton
7.8. Richard Avedon
7.9. Diane Arbus
7.10. Annie Leibovitz
7.11. Lorenzo Agius
7.12. Herb Ritts
7.13. Antonin Kratochvil
7.14. Anton Corbijn
7.15. Mario Testino
7.16. Richard Learoyd
8. Daguerreotype Portrait
9. Carte-de-Visite
10. Kodak Camera
11. Surrealist photographs
11.1. Man Ray
11.2. P.Halsman
11.3. F.Henri
12. Polariods
12.1. Andy Warhol
13. Selfies
13.1. Robert Cornelius
14. Self-portraits
14.1. Vivian Maier
14.2. Cindy Sherman
15. Phone Camera Portraiture
15.1. Enrica Brescia
16. Final shooting
16.1. find models and discuss the concept
16.2. virtual tour around the location
16.3. discussion regarding props, pre-plan the wardrobe etc. and test images
16.4. prepare equipement
16.5. Take pictures but make sure images don't look like selfies
16.6. analyse, organise
16.7. postproduction
17. Iphone photography
17.1. Huapeng Zhao
17.2. Kim Hanskamp
18. How technology changed photography