Phrasal verbs A phrase that consists of a verb with a preposition or adverb or both, the meaning of which is different from the meaning of its separate parts
by Hendaya Gamer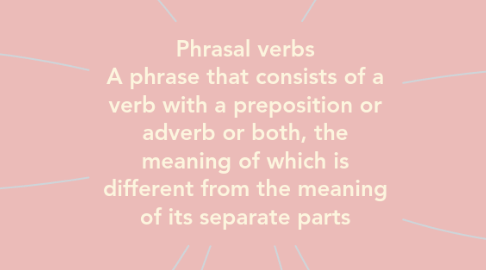 1. Hold on To make yourself continue to do what you are doing or stay where you are although it is difficult or unpleasant Ex: If you can just hold on I'll go and get some help. Now hold on, Ed, that wasn't what we agreed at all!
2. Clean up The act of making a place clean and tidy Ex: It's time you gave your bedroom a good clean-up. Residents have called for a clean-up campaign to keep their streets free from rubbish.
3. Break down (of a machine or motor vehicle) suddenly cease to function. Ex:"his van broke down" (of a relationship, agreement, or process) cease to continue; collapse. Ex:"pay negotiations with management broke down"
4. Found out If you find something out, you learn something that you did not already know, especially by making a deliberate effort to do so. Ex: What did you really think when you found out Alex was a Mexican? We just found out.
5. Throw away To waste a skill or opportunity Ex: You've spent three years working hard in college - don't throw it all away. US consumers throw away around 100 billion plastic bags annually.
6. Turn into To change or develop from one thing to another Ex: Rain in the morning will turn into snow during the afternoon. All the things you have turn into fuel for the fire.
7. Gave up To stop trying to guess Ex: You'll never guess the answer - do you give up? I give up - how many were there?
8. Ran out of If a supply of something runs out, all of it has been used or it is completely finished Ex: The milk has run out. My patience is beginning to run out.
9. Take care of To protect someone or something and provide the things that that person or thing needs Ex: Take good care of that girl of yours, Patrick - she's very special. Don't worry about me, I can take care of myself (= I do not need anyone else to protect me).
10. Look up To become better Ex: I hope things will start to look up in the new year. Our financial situation is looking up at last.