Women's resistance to femicide in Mexico: a call to action
by Tzintli CHAVEZ LUNA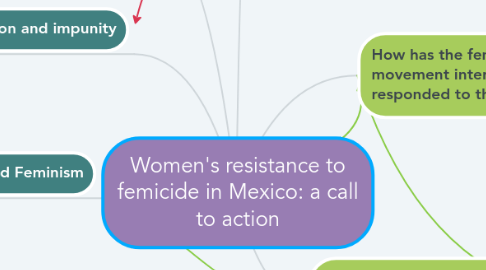 1. What expressions of resistance can we find within the feminist movement in Mexico?
2. Government (in)action and impunity
3. Patriarchy, misogyny, toxic masculinity, paternalism
3.1. Femicide, gender-based violence, domestic violence
4. Human Rights and Feminism
4.1. Access to justice
4.2. Intersectionality: gender, sex, race, class, poverty, ability, access to resources
5. How has the feminist movement interpreted and responded to this issue?
5.1. Shifts in social consciousness
5.2. Protests, civil disobedience, and grassroots organizing
5.2.1. Manifestations
5.2.2. #9M Women strike
5.2.3. International
5.2.4. Visibility in social media
5.2.4.1. #NiUnaMás (not one woman more)
5.2.4.2. #NoEstamosSolas (we are not alone)
5.2.4.3. #VivasNosQueremos (we want ourselves alive)
5.3. Artistic expressions
5.3.1. Music (Canción sin Miedo by Vivir Quintana
5.3.2. #Noestamostodas
5.3.3. Anti-monuments
6. What has been the government's response to the ongoing femicide in Mexico? What are the gaps in the government's responsibilities regarding this issue?
6.1. Policy, efforts towards justice, legislation, law enforcement, allocation of funding, etc
6.2. negligence, paternalism, perpetuation of injustice