SUN INFLUENCE MAIN SOURCE OF LIGHT AND HEAT
by Veronica EspritStudio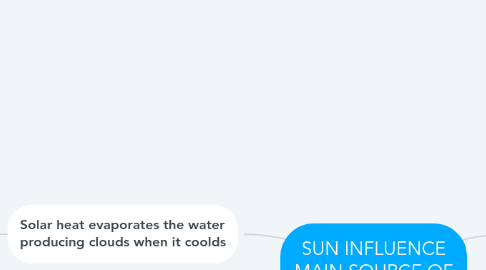 1. The sun heats the Earth's surface
1.1. Plants grow,evaporates water, regulates temperature
2. Sun heats masses of air producing wind
2.1. The wind regulates temperature. It can be soft or very hard. Its directions are north, south. east and west.
3. Solar heat evaporates the water producing clouds when it coolds
3.1. The clouds can come down producing fog. If a cloud is warmer than the outside, it will float.
4. When the clouds fill with water, this water comes down as rain
4.1. If the rain is solid form snow or hail. Rain fills lakes, ponds, rivers, and streams. This water is needed for humans, plants and animals, but can also create floods.