Dr. Gregory Scott Sparrow's Journey as a Teacher: "Solving the Most Difficult Problems First"
by G. Scott Sparrow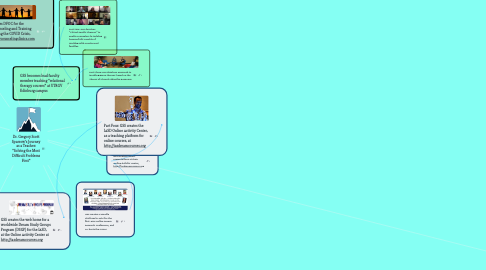 1. Use of Courses to serve the IASD Dream Study Group Program, also hosted at http://iasdreamcourses.org
2. GSS archives ODRC presentations at IASD Online Activity Center, http://iasdreamcourses.org
3. Part Four: GSS creates the IASD Online Activity Center, as a teaching platform for online courses, at http://iasdreamcourses.org
4. Part Three: GSS develops approach to teaching group therapy based on the Theory of Chronic Adaptive Response
5. Part Two: GSS develops "Virtual Family Therapy" to enable counselors in training become fully capable of working with couples and families.
6. GSS creates a Moodle platform in 2016 for the first-ever online Dream Research Conference, and co-hosts the ODRC.
7. Part One: In response to the COVID crisis, GSS creates DreamStar Free Online Counseling (DFOC) at https://onlinecounselinggroups.net to serve the needs of UTRGV internship students and the community
8. GSS replicates DFOC for the UTRGV Counseling and Training Clinics during the COVID Crisis, https://utrgvcounselingclinics.com
9. Part Five: GSS creates DreamStar Institute, which supports professionals and DFOC counselors in training, at https://dreamstarinstitute.com
10. GSS creates the web home for a worldwide Dream Study Groups Program (DSGP) for the IASD, at the Online Activity Center at http://iasdreamcourses.org
11. GSS becomes lead faculty member teaching "relational therapy courses" at UTRGV Edinburg campus
12. GSS uses DreamStar resources to train student counselors in dream analysis, and increases referrals by offering online dream sharing groups.
13. GSS helps to plan the IASD Foundation Course Series, and contributes two sections to the Dreamwork Methods Course. Used as main curriculum for the DSGP.