Seven Habits of Successful Students
by Paola Villalpando Rosas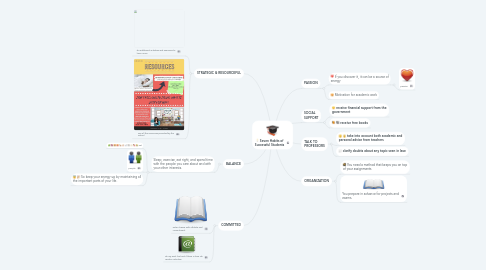 1. PASSION
1.1. If you discover it, it can be a source of energy
1.1.1. passion
1.2. Motivation for academic work
2. SOCIAL SUPPORT
2.1. receive financial support from the government
2.2. receive free books
3. TALK TO PROFESSORS
3.1. take into account both academic and personal advice from teachers
3.2. clarify doubts about any topic seen in lase
4. ORGANIZATION
4.1. You need a method that keeps you on top of your assignments
4.2. You prepare in advance for projects and exams.
5. STRATEGIC & RESOURCEFUL
5.1. do additional activities and exercises to learn more
5.2. use all the resources provided by the school
6. BALANCE
6.1. Sleep, exercise, eat right, and spend time with the people you care about and with your other interests.
6.1.1. eat
6.1.2. people
6.1.3. So keep your energy up by maintaining all the important parts of your life.
7. COMMITTED
7.1. enter classes with attitude and commitment
7.2. do my work first and if there is time do random activities