CrowdSourcing
by
Marcela Vivo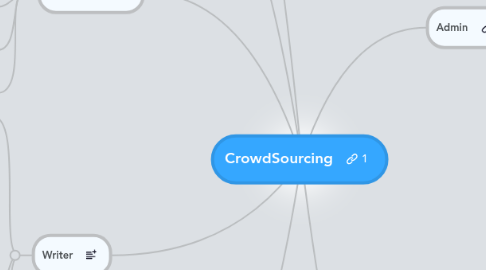 0.0
stars - reviews range from
0
to
5
Blog Owner
I'm a blog owner and I need great content for my site.I sign up for the system, and then I'm able to post titles and descriptions for articles I'd like written.As a blog owner, I can also enter my URL, category and request a list of title suggestions. Once an article is written, I then get to view a snippet (just the first paragraph). If I like it, I accept the article, and the full article with the author bio is submitted to me. As a blog owner, I then enter the URL where the blog post will be entered.This will be entered and tracked by the system, where it will spider the site and check to see if the article is live with a link back to the person who wrote it.
Select category
Enter Titles & Description
At this stage, a writer claims the title and it is removed from the general queue. The writer has X amount of time to write it (based on blog owners selection), if he doesn't, it gets released back to the general queue. Once he writes it, it gets submitted directly to the blog owner.
Accept or deny
Blog owner logs in and can see a list of articles submitted to him (like TB). He can then view the article, and A. request it to be proofread B. Accept it. If it has to be proofread, the system notifies the article with notes from the blog owner for required modifications. Article gets submitted again. If accepted, the owner notifies the writer through the system and the blog owner then has a certain period of time to enter in the URL where the post will be live.
Enter URL where the article will be made live
Once I accept an article, I have 2 weeks to enter the URL where the article will go live. If I don't, then there's an auto reminder requesting and admin will be flagged. If there's still no response, blog owner receives a warning. If after three weeks there was no response and no URL added, that user will be warned a final time. If after a month there is no response, the user will be banned.
View the status of my content
As a blog owner I will have claimed articles and will have several articles in the queue. If I log in and see that my offer has been accepted, I can then see the article ready for me to review. If I accept it, I can tehn enter the URL and see all of the new content that's available to me and the links.
Writer
I need links, so I sign up for the system. I scan through the list of available titles, and find some that are relevant to my industry. If I find one that I want to write about, I "claim" the title, and have a certain period of time to submit the completed article with my author bio.If the article is accepted, I will then be able to log in to an interface where I see all of my published posts with links. I can then see a status of all of my content - Published, Reviewing, Denied.
Claim Titles
Upload pre-written articles
View the status of my articles
As a writer, I should be able to log in and see the status of all of my articles. Are they pending to be reviewed? Have they been accepted? Do they need revisions? As a writer I can manage all of my content here and keep track of published URL's etc.
Users
Links
This area is for the admin to track link placements. I can see by both writer and blog owner the links that have been placed. The system will then track and notify me if links are down. If a link is down, it will automatically notify the blog owner so he can update the link. As an admin I should be able to track every link that has been placed. Admins can track links that are down in order to contact people directly. There has to be a manual overwrite in case the person is on vacation or something.
Support
Categories
Payments
Flags
If an article or a title isn't claimed after X amount of time, there should be a flag that alerts Admin. Admin can then feature these.
Featured Posts
Copyscape
How to avoid rejected articles from being copied and used, if the article was rejected multiple times?
Messaging
Ratings
Content
Copy trends
Premium Users
Available Content
This will be a place where people can submit content that they've already written. Writers can submit to this list content that was declined by blog owners so they can reuse it. Blog owners can scan for good articles they may want to share on their sites. If a blog owner likes the article, he claims it, and then he can see the first paragraph. If he likes it, he will then own it, at which time he gets the full article with the author bio. then he enters the URL where it will be published so the system can track it, and the Author can view in his interface that his article has been picked up.
List of article titles and descriptions
Blog owner makes offer
Future
Content types
Users
Blog Owner
Writer
Tabs
When users log on, they can select tabs. Get Content or Share content. If they click on "get content" they will have the choice of seeing contetn that is available, or submitting a title and description. If they hit "share content" they can see titles that have been created and claim them, or upload articles that they want to sahre.
Registration
Name, email, website, address, phone number.
Verify the account (pay with a tweet)
Agree to terms