NEVER BACK DOWN
by Eduarda Amorim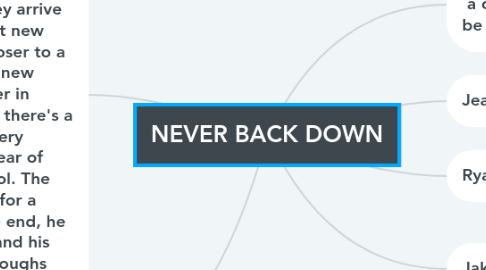 1. This guy is always looking for a certain type of attention, to be the spotlight.
2. Jean Roqua
2.1. He is teaching his students the true mixed martial art.
3. Ryan McCarthy
4. Jake Tyler
4.1. Jake is blaming himself for his father's death but is also discovering the martial art that will make thought change forever.
5. A boy who starts having anger issues following his father's death blames himself for what happened. His younger brother then receives a proposal to play tennis in another state. They arrive at the new school and meet new people, this boy getting closer to a special new kid. He finds a new way to take out all his anger in through fighting, seen that there's a guy who doesn't like him very much, all out of envy and fear of losing his fame at the school. The boy then starts to prepare for a fighting tournament. In the end, he ends up beating the bully and his problems are forgotten throughs his new way of dealing with it.
6. Themes covered in the show:
6.1. •Motivation •Martial arts/fighting •Dealing with emotions.