The section of the site "BBC" consists of 6 parts:
by Виктория Петрова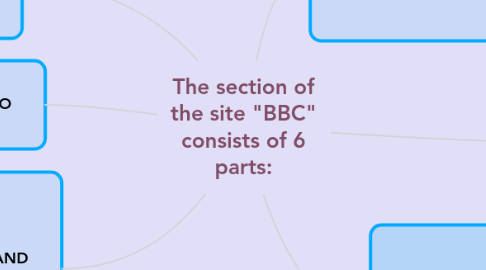 1. LESSONS PLANS
1.1. 1) "Words in the News" (Lesson plans to accompany Words in the New Features)
1.2. 2) "Keep your English up-to-date" (Lesson plans from series one to four of feature on new and changing vocabulary)
2. SKILLS
2.1. 1) How to...
2.2. 2) Watch & listen
2.3. 3) Talking Business
2.4. 4) The Handy Guide
3. GRAMMAR & VOCABULARY
3.1. 1) Grammar Challenge
3.2. 2) Funky Phrasals
4. VIDEO
4.1. 1) The Teacher
5. TEACHING IDEAS AND WORKSHEETS
5.1. 1) The Flatmates
5.2. 2) Working Abroad
5.3. 3) Knowledge on the Net
5.4. 4) Innovations in Teaching
6. DISCUSS & VOTE
6.1. 1) Quiet students
6.2. 2) Dictation
6.3. 3) Music in the classroom
6.4. 4) Pair work