ISTE for Educators
by Cassie Sandoval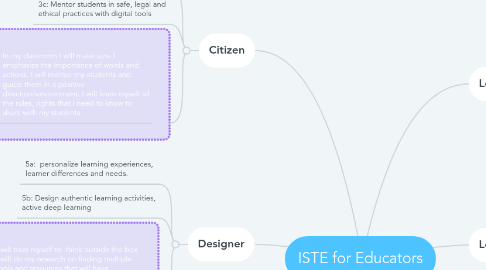 1. Learner
1.1. 1a: explore and apply pedagogical approaches using technology
1.2. 1c: Stay current with research
1.3. I will stay current and up to date with research, what students need. I will strive to look for more ways, more options, more opportunities to learn.
2. Leader
2.1. 2a: Shape, advance and accelerate a shared vision
2.2. 2b: learning opportunities to meet the diverse needs of all students.
2.3. I will train myself to fight for my students to have a diverse learning environment. To have the exposure to digital equipment, tools and resources.
3. Citizen
3.1. 3a: exhibit empathetic behavior online that build relationships and community.
3.2. 3c: Mentor students in safe, legal and ethical practices with digital tools
3.3. In my classroom I will make sure I emphasize the importance of words and actions. I will mentor my students and guide them in a positive direction/environment. I will learn myself all the rules, rights that I need to know to share with my students.
4. Designer
4.1. 5a: personalize learning experiences, learner differences and needs.
4.2. 5b: Design authentic learning activities, active deep learning
4.3. I will train myself to think outside the box. I will do my research on finding multiple tools and resources that will have accommodating options, I will Create fun assignments/lessons that will engage the students to want to learn, with using technology
5. Collaborator
5.1. 4a: Dedicate planning time to collaborate with colleagues
5.2. 4c: collaborative tools to expand students' authentic, real-world learning experiences by engaging virtually with experts, teams and students, locally and globally.
5.3. I will train myself to work with my colleagues and even teacher/educators from all around the world. I plan to listen to my students and parents. I would lie too engage myself with educators for questions, answers, ideas, I would love for my students to virtually meet others with ideas.
6. Analyst
6.1. 7a: Provide Different ways to demonstrate competency and reflection
6.2. 7c: assessment data, student self direction
6.3. I will train myself to have understanding, ability to take good notes on how to analyze and evaluate each student and to involve the parent and student in my evaluations. I will provide more than one option of guides or accommodate for any student that needs it.