My Personal Learning Network (PLN): Teacher Instagram Community
by Lauren Giles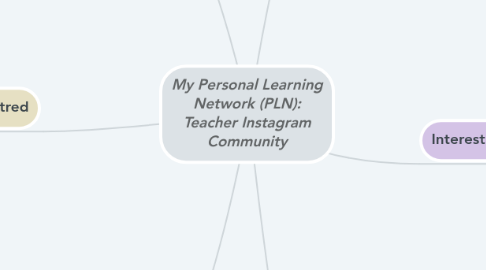 1. Peer Supported
1.1. Like-minded educators who are uplifting and encouraging.
1.2. Depending on how many followers you have on the application, their is the potential to have thousands of educators who are simply a message or post away. It does not matter where or what they teach, users are able to seek out support or advice to other educators at all times of the day. From personal experience, the amount and quality of support received from a post or story made is very high. Some educators who work in very small schools, with limited amounts of support can therefore rely on this digital community to assist them with any concerns they may have. It is a quick, simple and effective platform for educators who tend to live busy lives.
2. Interest Powered
2.1. The Instagram application allows users to curate their feed to ensure it is a very personalised space that highlights the interests of each individual user.
2.2. When a user makes a post on the application, they have the option to write hashtags in their captions. This feature has multiple purposes. They can attract more followers by increasing the amount of people who can view their post. The more people you follow, the more information you have access to. Users can also click on a hashtag or search for a hashtag, which will then display every single post that has been made using that hashtag. The benefit of this is you can very quickly find specific information on topics of interest, instead of having to pose questions to your followers or wait until someone speaks about the topic.
2.3. Like everything, your interest can shift and change depending on your circumstances. For educators this could be the year you are teaching, certain programs your school uses to teach specific subjects, subjects you are teaching with your students, diagnoses that your students have or external topics of interest that you are wanting to learn more about for professional development purposes. Instagram allows you to constantly follow or unfollow users, depending on these interest shifts. It also allows you to follow certain hashtags, which will display posts with these hashtags on your feed to keep you updated on this topic.
3. Academically Oriented
3.1. A more recent addition to the online community is the sharing of academic literature within the platform. As I am currently studying my Masters degree, I have connected with a number of other teachers who are also studying post-graduate degrees or courses. This has been highly beneficial in terms of discussing how we are balancing it with our teaching load, seeking advice on assessments and discussions around specific subjects.
3.2. This again is a very efficient and simple platform to gain support from educators in very similar positions when there is a lack of people in our personal lives to have these conversations with. Inspiration and motivation are two key things that are sparked from these types of informal discussions and are crucial to being successful in not only my Masters degree but my teaching practice as well.
4. Production-Centred
4.1. One of the best features of this learning community is the amount of resources and educational products that are shared on this platform. When I am after a specific resource or activity idea, the first place I search is my Instagram community.
4.2. Due to the fact that your feed is highly personalised, so are the resources that are shared. There is no limit to the types, styles or topics of the resources shared. They can be shared via posts on you feed that you can screenshot and use in your own classroom or you can recreate for your own context. They can also be shared via stories with links to download the resources for free. Lastly, the links to or the actual resources are shared via the direct message feature of the application. Users can create personalised resources and send these to others who request them.
5. Shared Purpose
5.1. Like myself, the majority of users with it the teacher Instagram community have a teacher account and a separate personal account. This way, every user that you follow are educators. We all have the shared purpose of being a member of a digital community that can provide advice, support and professional learning for teachers around the world.
5.2. The users that teachers choose to follow or have in their teacher Instagram depends on their purpose for being apart of the learning community. Personally, I tend to follow upper years teachers who work in Australia as that is my context. I do, however, have pre-service, lower years and high school teachers on my account, as well as educators who live in other countries. I find this way I have the ability to connect and learn from like-minded people who's teaching journey and everyday experiences are similar to mine but then I also then am being exposed to individuals whose experiences and contexts are vastly different to mine.
6. Openly Networked
6.1. Users can also make a story where they type a question that they require clarification or advice on. Only the users who follow this person can view this story and reply to them via direct messaging.
6.2. Users can create posts asking for advice or questions that they require support for. Anyone in the community can then reply to these in the public comment section or more personal methods of direct messaging the user with the concern.
6.3. Ample opportunity for communication with educators who are located around the globe.
6.4. The search feature within the Instagram application allows users to search by top accounts, usernames, hashtags and places. This allows users to find not only people who they wish to follow or view, but also topics of interest and specific places around the world.
6.5. A strong quality of this learning environment is that all anyone needs to be apart of this community is a device and an account, which is free. This creates a highly accessible platform with an increased amount of diversity within the community.