Martin Luther King Jr.
by Sabine Maria Steiner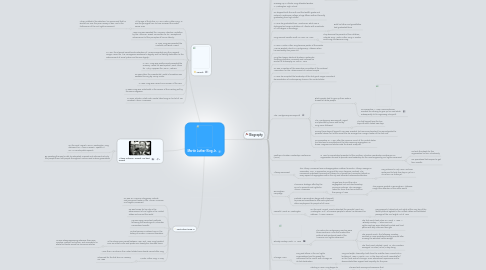 1. "I have a dream" speech- His best speech
1.1. On the 23rd August 1963 in Washington, King delivered his "I Have a Dream" speech, it is a 17-minute public speech
1.2. By speaking the way he did, he educated, inspired and informed not only the people there, but people throughout America and unborn generations
2. Biography
2.1. Martin Luther King, Jr. was born on January 15th 1929 in Atlanta, Georgia
2.2. King sang with his church choir at the 1939 Atlanta premiere of the movie Gone with the Wind
2.3. His grandfather began the family's long tenure as pastors of the Ebenezer Baptist Church in Atlanta, serving from 1914 to 1931
2.3.1. His father, Martin Luther King Senior has also served as a pastor
2.3.2. King Jr. was originally skeptical of many of Christianity's claims
2.4. Growing up in Atlanta, King attended Booker T. Washington High School
2.5. He skipped both the ninth and the twelfth grade and entered Morehouse College at age fifteen without formally graduating from high school
2.6. In 1948 he graduated from Morehouse, which was a distinguished Negro institution of Atlanta, with a Bachelor of Arts degree in sociology,
2.6.1. Both his father and grandfather had graduated there
2.7. King married Coretta Scott, on June 18, 1953
2.7.1. They became the parents of four children; Yolanda King, Martin Luther King III, Dexter Scott King, and Bernice King
2.8. In 1954, Martin Luther King became pastor of the Dexter Avenue Baptist Church in Montgomery, Alabama when he was twenty-five years old
2.9. King then began doctoral studies in systematic theology at Boston University and received his Doctor of Philosophy on June 5, 1955
2.10. He was a member of the executive committee of the National Association for the Advancement of Colored People
2.11. In 1955 he accepted the leadership of the first great Negro nonviolent demonstration of contemporary times in the United States
2.12. The Montgomery Bus Boycott
2.12.1. Black people had to give up their seats in busses for white people
2.12.1.1. On December 1, 1955, Rosa Parks was arrested for refusing to give up her seat which subsequently let to organizing a boycott
2.12.2. The Montgomery Bus Boycott, urged and planned by Nixon and led by King, soon followed.
2.12.2.1. The first boycott was the bus boycott which lasted 382 days
2.12.3. During these days of boycott, King was arrested, his home was bombed, he was subjected to personal abuse, but at the same time he emerged as a Negro leader of the first rank
2.12.4. On December 21, 1956, after the Supreme Court of the United States had declared unconstitutional the laws requiring segregation on buses, Negroes and whites rode the buses as equals.
2.13. Southern Christian Leadership Conference (SCLC)
2.13.1. In 1957 he was elected president of the Southern Christian Leadership Conference, an organization formed to provide new leadership for the now burgeoning civil rights movement
2.13.1.1. He took the ideals for this organization he from Christianity
2.13.1.2. His operational techniques he got from Gandhi
2.14. Albany movement
2.14.1. The Albany Movement was a desegregation coalition formed in Albany, Georgia in November 1961. In December, King and the SCLC became involved. The movement mobilized thousands of citizens for a broad-front nonviolent attack on every aspect of segregation within the city and attracted nationwide attention.
2.14.1.1. King returned in July 1962, and was sentenced to forty-five days in jail or a $178 fine. He chose jail.
2.15. Birmingham campaign
2.15.1. This was a strategic effort by the SCLC to promote civil rights for African Americans
2.15.1.1. Its goal was to end the city's segregated civil and discriminatory economic policies. The campaign lasted for more than two months in the spring of 1963
2.15.1.1.1. This massive protest in Birmingham, Alabama, caught the attention of the entire world
2.15.2. Protests in Birmingham began with a boycott to pressure businesses to offer sales jobs and other employment to people of all races
2.16. Peaceful March on Washington
2.16.1. On the 23rd August 1963 he directed the peaceful march on Washington, D.C., of 250,000 people to whom he delivered his address, "l Have a Dream"
2.16.1.1. King's speech, helped put civil rights at the very top of the liberal political agenda in the United States and facilitated passage of the Civil Rights Act of 1964
2.17. Bloody Sunday March, 17 1965
2.17.1. The Selma to Montgomery marches were three marches in 1965 that marked the political and emotional peak of the American civil rights movement.
2.17.1.1. The first march took place on March 7, 1965 — "Bloody Sunday" — when 600 civil rights marchers were attacked by state and local police with billy clubs and tear gas
2.17.1.2. The second march, the following Tuesday, resulted in 2,500 protesters turning around after crossing the Edmund Pettus Bridge.
2.17.1.3. The third march started March 16. The marchers averaged 10 miles (16 km) a day along
2.18. Chicago, 1966
2.18.1. King and others in the civil rights organizations tried to spread the movement to the North, with Chicago as its first destination.
2.18.1.1. King and Ralph Abernathy, both from the middle class, moved into a building at 1550 S. Hamlin Ave., in the slums of North Lawndale[81] on the West Side of Chicago, as an educational experience and to demonstrate their support and empathy for the poor.
2.19. Opposition to the Vietnam war
2.19.1. Starting in 1965, King began to express doubts about the United States' role in the Vietnam War.
2.19.1.1. The war took money and resources that could have been spent on social welfare services
2.19.2. April 4, 1967 King delivered a speech titled "Beyond Vietnam"
2.20. Poor People's Campaign in 1968
2.20.1. The campaign culminated in a march on Washington, D.C., demanding economic aid to the poorest communities of the United States
2.21. On April 4th 1968 Dr King was shot dead in the southern US city of Memphis, Tennessee, where he was to lead a march of sanitation workers protesting against low wages and poor working conditions
3. Facts about King Jr.
3.1. He was an American clergyman, activist, and prominent leader in the African-American Civil Rights Movement
3.2. He was known for his role in the advancement of civil rights in the United States and around the world
3.3. He was using nonviolent methods following the teachings of Mohandas Karamchand Gandhi
3.4. He has become a national icon in the history of modern American liberalism.
3.5. In the eleven-year period between 1957 and 1968, King traveled over six million miles and spoke over twenty-five hundred times
3.5.1. He was always appearing wherever there was injustice, protest, and action; and meanwhile he wrote five books as well as numerous articles
3.6. More than 730 cities in the United States have streets named after King
3.7. Martin Luther King, Jr. Day
3.7.1. Observed for the first time on January 20, 1986
4. Awards
4.1. At the age of thirty-five, in 1964 Martin Luther King, Jr., was the youngest man to have received the Nobel Peace Prize
4.1.1. When notified of his selection, he announced that he would turn over the prize money of $54,123 to the furtherance of the civil rights movement.
4.2. 1965 King was awarded the American Liberties Medallion by the American Jewish Committee for his "exceptional advancement of the principles of human liberty"
4.3. In 1959, King was awarded the Anisfield-Wolf Book Award
4.4. In 1966, the Planned Parenthood Federation of America awarded King the Margaret Sanger Award for "his courageous resistance to bigotry and his lifelong dedication to the advancement of social justice and human dignity"
4.5. In 1971, King was posthumously awarded the Grammy Award for Best Spoken Word Album for "Why I Oppose the War in Vietnam"
4.6. Six years later, the Presidential Medal of Freedom was awarded to King by Jimmy Carter.
4.7. In 1963, King was named Time Person of the Year
4.8. in 2000, King was voted sixth in the Person of the Century poll by the same magazine
4.9. In 2002, scholar Molefi Kete Asante listed King on his list of 100 Greatest African Americans