FUNDAMENTAL PRINCIPLES OF TESTING
by academia ritmo juvenil guadalajara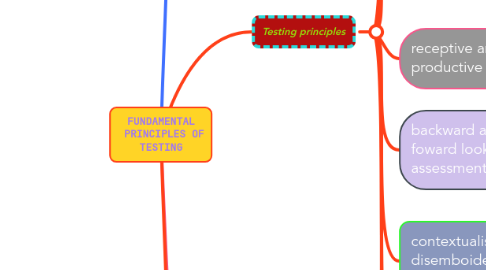 1. UNIVERSIDAD IEXPRO
1.1. IV2 Asesoría y Evaluación MEI12L
1.1.1. NAME: MARIA GUDALUPE VENEGAS ZAVALA
1.1.2. TEACHER: RAYMEL ANDRÉS CARBAJAL TRUJILLO
2. Testing principles
2.1. competence vs performance
2.1.1. Competence: the speaker-listener's knowledge of his language and
2.1.2. performace: use of the language in cocrete situations
2.2. usage vs use
2.2.1. the student has to use the language because this means that they can understand and speak it
2.2.2. usage: memorization of the sentence but not the student's performance in the second language.
2.3. direct and indirect assessment
2.3.1. direct: use testing task of the same type as language task in the real world.
2.3.2. indirect: testing without eliciting performance
2.4. discrete point vs integrative assessment
2.4.1. discrete: only can test a few part of the language
2.4.2. integrative: combine knowledge of different parts of the language
2.5. objetive and subjective assessment
2.5.1. objetive: the process that can be marked clearly as right or wrong.
2.5.2. subjetive: assessor makes a judgement according to some criteria and experience.
2.6. receptive and productive skills
2.6.1. receptive: reading and listening skills
2.6.2. productive: writing and speaking skills
2.7. backward and foward looking assessment
2.7.1. use syllabus to see to what degree it has been assimilated
2.8. contextualised vs disemboided language
2.8.1. disemboide: language has a little or not context
2.8.2. contextualised: information about commmunicative context
2.9. criterion reference and norm-reference assessment
2.9.1. norm-reference: compare to the student with an average mark.
2.9.2. criterion: compares students not againts each other.
2.10. reliability vs validity
2.10.1. reliability: consisting of the scoring of the test
2.10.2. many types of validity
2.10.2.1. content: test reflect the language of the syllabus
2.10.2.2. construct: valid theories of language learning
2.10.2.3. predictive: the extend of the test
2.10.2.4. concurrent: the extend to which the produce results
3. Desirable Test Characteristic
3.1. validity and more information
3.1.1. utility
3.1.1.1. give a lot of feedback for the next course
3.1.2. discrimination
3.1.2.1. test which discriminate wake and stronger student
3.1.3. practicality
3.1.3.1. do not requiere a lot equipment
3.1.4. reliability
3.1.4.1. consistency of the test
3.1.5. valitidy
3.1.5.1. informal test
4. BIBLIOGRAPHY
4.1. Universidad Iexpro.(s.f.) Assessment and testing in the classroom in EFL.