Part 2. Describe a crowded place in your hometown.
by Huy Lê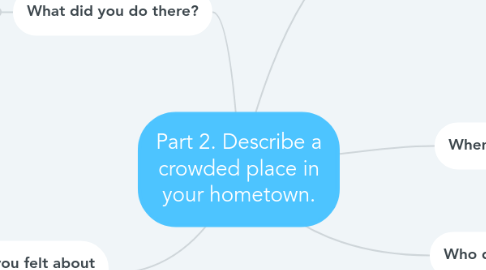 1. Where is this place?
1.1. In the heart and soul of the city = in the inner city
1.2. in the vicinity of my neighborhood
2. When did you go there?
2.1. summer vacation
2.2. go there on a regular basis
3. What did you do there?
3.1. there are various/numerous things that you can do there. Firstly/Secondly/Lastly,
3.2. food?
3.3. entertainment?
3.4. shopping?
4. And explain how you felt about visiting this place.
4.1. It gives me a sense of elation/exhilaration
4.2. to chillout and unwind
4.3. to decompress
5. Who did you go with?
5.1. by myself = alone => enjoy my solitude
5.2. with some of my buddies => outgoing person