REFERRAL AND ASSESSMENT FOR ASSISTIVE TECHNOLOGY
by Regina Durley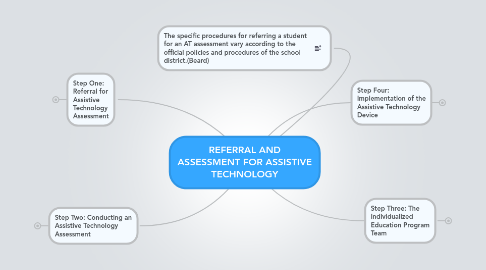 1. Step One: Referral for Assistive Technology Assessment
1.1. Who can make a referal?
1.1.1. A family member
1.1.2. A referring agency
1.1.3. A physician
1.1.4. A teacher
1.1.5. Any school professional
1.2. What information considered after a referral is made
1.2.1. Student data or personal information
1.2.2. Medical data for vital concern
1.2.3. Vision and hearing reports
1.2.4. Information about any technology or equipment currently in use
1.2.5. Background information regarding any related services provided previously for the student
2. Step Two: Conducting an Assistive Technology Assessment
2.1. What are observed?
2.1.1. Cognitive skills
2.1.2. Current use of any AT devices
2.1.3. Sensory skills
2.1.4. Motor skills
2.1.5. Communication skills
2.1.6. Social skills
3. Step Four: Implementation of the Assistive Technology Device
3.1. After the trial period the IEP team measures the device and how it works with the student. After the device is purchased the student is monitered carefully to make sure that the device is doing what it is suppose to do and that nothing extra is needed.
4. Step Three: The Individualized Education Program Team
4.1. IEP decides if the student needs an AT device
4.1.1. Before actually purchasing the device the students are able to try out the devices for 30 days
5. The specific procedures for referring a student for an AT assessment vary according to the official policies and procedures of the school district.(Beard)