ADVERBS , ADJECTIVES AND CONJUNCTIONS
by Erika Corral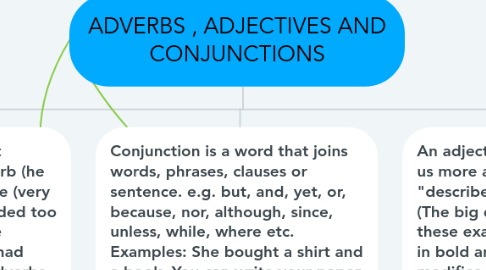 1. An adverb is a word that modifies (describes) a verb (he sings loudly), an adjective (very tall), another adverb (ended too quickly), or even a whole sentence (Fortunately, I had brought an umbrella). Adverbs often end in -ly, but some (such as fast) look exactly the same as their adjective counterparts.
1.1. Different Types of Adverbs: Adverbs of Frequency. Adverbs of Manner. Adverbs of Time. Adverbs of Place. Adverbs of Degree. Adverbs of Evaluation. Conjunctive Adverbs List
2. Conjunction is a word that joins words, phrases, clauses or sentence. e.g. but, and, yet, or, because, nor, although, since, unless, while, where etc. Examples: She bought a shirt and a book. You can write your paper with a pen or a pencil.
2.1. Types of conjunctions: Coordinating Conjunctions. Subordinating Conjunctions. Correlative Conjunctions.
3. An adjective is a word that tells us more about a noun. It "describes" or "modifies" a noun (The big dog was hungry). In these examples, the adjective is in bold and the noun that it modifies is in italics.
3.1. Types of Adjectives: Descriptive Adjectives. Quantitative Adjectives. Proper Adjectives. Demonstrative Adjectives. Possessive Adjectives. Interrogative Adjectives. Indefinite Adjectives. Articles.