What's the different and similarity between reproduction in humans and reproduction in plants?
by Ravier Ong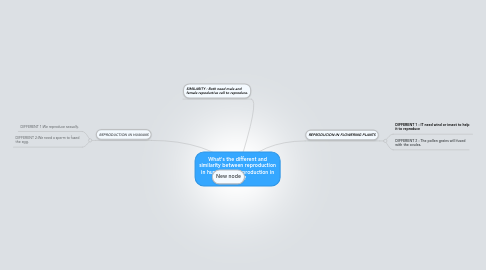 1. New node
2. REPRODUCTION IN HUMANS
2.1. DIFFERENT 1:We reproduce sexually.
2.2. DIFFERENT 2:We need a sperm to fused the egg.
3. SIMILARITY : Both need male and female repoductive cell to reproduce.
4. REPRODUCION IN FLOWERING PLANTS
4.1. DIFFERENT 1 : IT need wind or insect to help it to reproduce
4.2. DIFFERENT 2 : The pollen grains will fused with the ovules.