TOPIC 2- CULTURE AND SOCIAL STRUCTURE
by Afifah Anuardi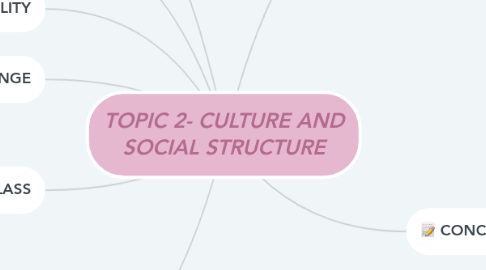 1. DEFINITION OF CULTURE
1.1. Its the shared beliefs, values, attitudes and behavior patterns
1.2. The ideas, customs,and social behavior of a particular people or society
1.3. The values, beliefs, attitudes, languages, symbols, rituals, behaviors and customs unique to a particular group of people and that are passed down from generation to generation
2. MULTICULTUTRAL SOCIETY
2.1. Characteristic of a society that has many different ethnic or national cultures mingling freely.
2.2. Multiculturalism is the practice of giving equal attention to many different backgrounds in a particular setting
3. CULTURE CHANGE
3.1. Modification of a society through innovation, invention, discovery, or contact with other societies
4. SOCIAL MOBILITY
4.1. Social mobility refers to the movement of a person or persons from one social status to another
5. SOCIAL CHANGE
5.1. Social change may include changes in nature.
6. SOCIAL CLASS
6.1. 1. Upper / higher class
6.1.1. The upper class belongs to the people who are wealthy and hold the greatest political power
6.2. 2. Middle class
6.2.1. The workers of the middle class are also called as white collar workers
6.3. 3. Lower class
6.3.1. Homeless and poor people
7. INTERGROUP CONFLICT
7.1. In the country that has multicultural society, there are several problems or misunderstanding is happening to develop cultural diversity.
7.2. Misunderstanding language
7.3. Different ways of looking at things
7.4. Misunderstanding expressing personality/goodness
7.5. Misunderstanding in religion and belief
8. CONCEPT OF CULTURE
8.1. 1. Culture is Learned
8.1.1. Cultural learning is the accumulation of knowledge about experiences
8.1.2. Information not perceived directly by the organism, but transmitted to it through symbols
8.2. 2. Culture is Shared
8.2.1. Culture is located and transmitted in groups
8.2.2. Culture will hold a shared set of values, ideas, perceptions, and standards of behaviors
8.3. 3. Culture is Symbolic
8.3.1. A symbol is a sign of a symbol and a matter of other things but represents something in a meaningful way
8.3.2. Human cultural behavior uses symbols
8.4. 5. Culture is Dynamic
8.4.1. A culture that changes all the time and every day in a subtle and tangible way
8.4.2. Culture are dynamic systems that respond to motions and actions within and around them
8.5. 6. Culture is All compassing
8.5.1. Touches every aspect of our lives
8.5.2. It is closely identified with the discipline of anthropology