TYPES OF PLANTS REPRODUCTION
by VALENTINA CORRALES MANCIPE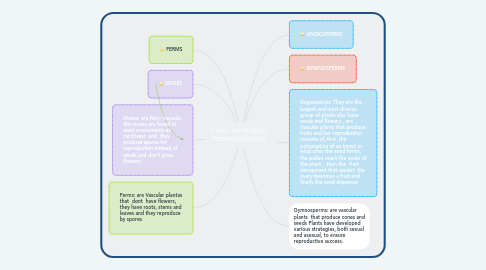 1. ANGIOSPERMS
2. GYMNOSPERMS
3. FERMS
4. MOSES
5. Moses: are Non- Vascular, the moses are found in weat enviroments as rainforest and they produce spores for reproduction instead of seeds and don't grow flowers.
6. Ferms: are Vascular plantas that dont have flowers, they have roots, stems and leaves and they reproduce by spores
7. Angiosperms: They are the largest and most diverse group of plants also have seeds and flowers , are Vascular plants that produce fruits and her reproduction consists of, first the polonisation of an insect or wind after the seed forms, the pollen reach the ovule of the plant , then the fruit devopment that consist the ovary becomes a fruit and finally the seed disperses
8. Gymnosperms: are vascular plants that produce cones and seeds Plants have developed various strategies, both sexual and asexual, to ensure reproductive success.