What do the revised Technology TEKS mean to education?
by Sandy Karas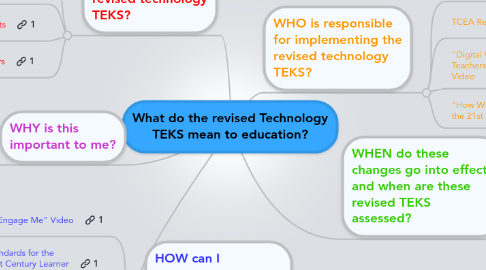 1. HOW can I incorporate these revised TEKS in what I do?
1.1. "Engage Me" Video
1.2. Standards for the 21st Century Learner Lesson Database
1.3. Website with resources for technology lesson plans
1.4. Online Computer Skills Games
2. WHAT are the revised technology TEKS?
2.1. International Society for Technology in Education (ISTE) Resources
2.2. New Standards for Students
2.3. NETS for Students
2.4. NETS for Teachers
3. WHEN do these changes go into effect, and when are these revised TEKS assessed?
3.1. TEA cites "The revised TEKS are identified by "Beginning with School Year 2012-2013" in the title."
3.2. Wiki: Revised Tech Apps TEKS
4. WHY is this important to me?
4.1. Article "Accelerating Change"
4.2. Article "Turning the Page
4.3. "Teaching for the 21st Century" article
4.4. "A Vision of K-12 Students Today" video
4.5. LISD Graduate Profile
5. WHO is responsible for implementing the revised technology TEKS?
5.1. TEA Website
5.2. TCEA Resources
5.3. "Digital World: Teachers Today" Video
5.4. "How Will You Teach Me in the 21st Century?" Video