HIRING PROCESS
by Jacob Kelly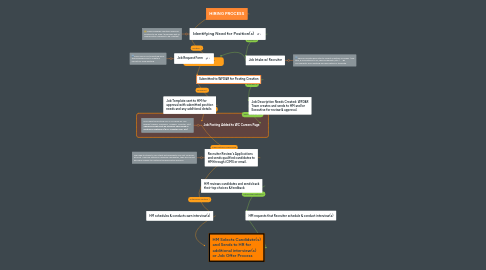 1. Identifying Need for Position(s)
1.1. Hiring Manager identifies need for position to be filled. (Employee exit or New Position needing to be created).
2. Job Request Form
2.1. Form HM fill out collecting all of the necessary info to create & recruit for a job posting.
3. Job Intake w/ Recruiter
3.1. Phone Call with Recruiter to collect all details of needs. (Job title, # of positions to fill, special requests, etc.) **or** HM requests from existing job description or template.
4. Submitted to WFD&R for Posting Creation
5. Job Template sent to HM for approval with submitted position needs and any additional details
6. Job Description Needs Created: WFD&R Team creates and sends to HM and/or Executive for review & approval.
7. Job Posting Added to WC Careers Page
7.1. From here the Posting info is 'Scraped' by Job Boards (Indeed, Glassdoor, LinkedIn, Monster, etc.) **Sponsored Ads must be manually sponsored or created on platforms (KSL, Monster.com, etc.) **
8. Recruiter Review's Applications and sends qualified candidates to HM through iCIMS or email.
8.1. We need to stress to HM's that hot applicants only last 48 hours at most. If we are sitting on qualified candidates, they will be lost and very unlikely to continue the application process.
9. HM reviews candidates and sends back their top choices & feedback
10. HM schedules & conducts own interview(s)
11. HM requests that Recruiter schedule & conduct interview(s)
12. HM Selects Candidate(s) and Sends to HR for additional interview(s) or Job Offer Process