CURRICULAR APPROACHES
by Domenica Alejandra Amaguaya Cacuango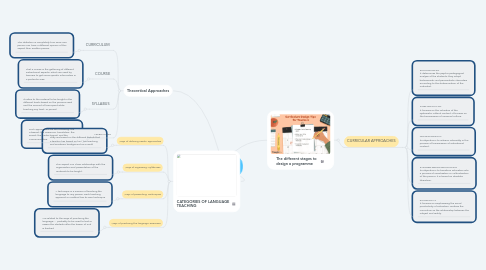 1. The different stages to design a programme
1.1. CURRICULAR APPROACHES
1.1.1. PSYCHOLOGIST It determines the psycho-pedagogical analysis of the students, they adopt behavioristic and personalistic characters according to the determination of the individual.
1.1.2. INTELLECTUALIST It focuses on the valuation of the systematic cultural content, it focuses on the transmission of universal culture.
1.1.3. TECHNOLOGICAL Its objective is to achieve rationality in the process of transmission of educational content.
1.1.4. PARTNER-RECOSTRUCTIONIST Its objective is to transform education into a process of socialization or culturalization of the person, it is based on idealistic liberalism.
1.1.5. DIALECTICAL It focuses on emphasizing the social productivity of education. Defines the curriculum as the relationship between the subject and reality.
2. Theoretical Approaches
2.1. CURRICULUM
2.1.1. The definition is completely true since one person can have a different opinion of this aspect than another person.
2.2. COURSE
2.2.1. That a course is the gathering of different instructional aspects, which are used by learners to get some specific information in a particular area.
2.3. SYLLABUS
2.3.1. It refers to the material to be taught in the different levels based on the process used and the amount of time spent while teaching any level, or period.
2.4. APPROACHES
2.4.1. Such approaches are the following: the Classical, the Grammar- translation, the Direct, the Audio-lingual, and the Communicative.
3. CATEGORIES OF LANGUAGE TEACHING
3.1. Ways of defining needs: approaches
3.1.1. They are based on the different beliefs that a teacher has based on his / her teaching and academic background as a result
3.2. Ways of organizing: Syllabuses
3.2.1. This aspect is in close relationship with the organization and presentation of the materials to be taught.
3.3. Ways of presenting: Techniques
3.3.1. A technique is a manner of teaching the language to any person. Each teaching approach or method has its own technique
3.4. Ways of practicing the language: Exercises
3.4.1. Are related to the ways of practicing the language,… probably to be used to test or assess the students after the lesson of unit is finished