Modelos de Comercio Electrónico
by David Solís Martínez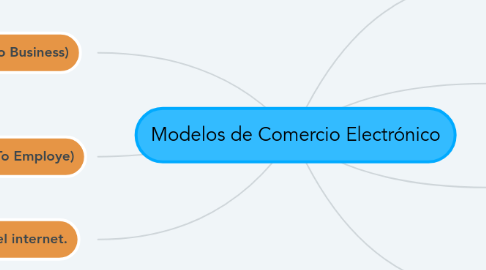 1. B2C(Business To Consumer)
1.1. Comercio entre una empresa minorista y sus clientes.
1.2. Empresa-Consumidor
1.3. Ejemplo: Amazon
2. B2B (Business To Business)
2.1. Comercio entre empresas
2.2. Empresa- Empresa.
2.3. Ejemplo: Empresas de Software
3. C2C (Consumer To Consumer)
3.1. Modelo red entre usuarios finales.
3.2. Consumidor-Consumidor
3.3. Ejemplo: Mercado libre
4. B2E (Business To Employe)
4.1. Empresa que realiza transacciones comerciales con sus empleados
4.2. Empresa-Empleados
4.3. Ejemplo: Intranet Avon
5. G2C/G2B
5.1. Transacciones del "Gobierno Electrónico"
5.2. Gobierno-Personas-Empresas
5.3. Ejemplo: www.dgii.gob.do
6. El comercio electrónico, es la compra o venta de productos y servicios a través de medios electrónicos, tales como el internet.
7. C2B ( Consumidor-Negocio)
7.1. Prestación de servicios y productos a empresas
7.2. Ejemplo: Amazon
7.3. El usuario crea el valor del producto