Goal/purpose: Integrate Basic Google Apps (Drive, Docs, Slides) into classrooms and curriculum to support students' learning and collaborate with co-workers easily.
by Ivon Arriaga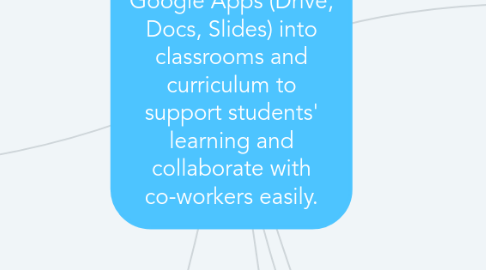 1. Desired Result: Teachers will implement basic Google Apps such as Drive, Slides, and Docs to share information and lesson to students and other teachers.
2. Understandings: Teachers will be able to understand how to use and easy implement Google apps into lessons to teach and to share information to co-workers and work as a team. Also, save works and make it available for everyone at any time.
3. Objectives: 1)Teacher will understand why it is important to implement Google Apps into curriculum. 2) Teachers will learn how to implement Google Apps to a particular lesson to engage students. 3) Teachers will learn how to share ideas and information to co-workers to work as a team.
4. Essential Questions: 1) Why it is important to use and implement Google Apps (Drive, Slides, Docs) into curriculum? 2) How implement Google Apps in a particular lesson involving students? 3) How to share information and lessons to co-workers as a team?
5. Learning Activities: 1) Make a list pros of using Google Apps into curriculum by using Docs/Slides and share with colleagues to compare.
6. Learning Activities: 2) Develop a lesson of a particular topic as an example using Google Apps (Slides to teach, Docs to create a paper, Drive to save and share) and include an assignment that involves students using it.
7. Learning activities: 3) Create lessons, folders, and groups to share specific documents and collaborate all together. Explore group chats in each app to share ideas/comments/questions while working together.
8. Assessment Evidence/ Performance Tasks: 1) Teachers will discuss the importance and benefits of using those apps by writing a brief summary on Google Docs and share it with colleagues. 2) Teachers will create a lesson plan in google docs, develop the lesson in google slides using images, sounds, videos, links, and many visual effects and tools to make it attractive and interactive to present. 3) Teachers will work on teams to share and create folders with documents using all available resources to communicate and work together while they are apart at the same time.