MAKING DIFFICULT DECISIONS IN TURBULENT TIMES
by Tatiana Quintero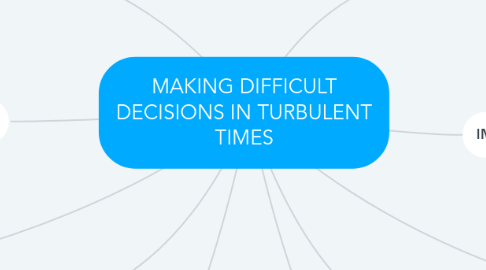 1. Rather than relying on expert judgments, some management teams may wish to grapple with ill-structured decisions by stimulating a rigorous debate among all members
1.1. This dysfunctional form of conflict makes it difficult to build commitment, and diminishes the likelihood that team members will want to co-operate with one another during implementation.
2. These experts have credibility, and command respect from others inside as well as outside the organization.
2.1. When making complex, unstructured decisions, experts can play an important role because they bring to bear a rich accumulation of experiences from which they can draw inferences, develop hypotheses and pose challenging questions.
3. REASONING BY ANALOGY
3.1. hey draw comparisons to similar situations or circumstances from their past or the history of other organizations, and deduce certain lessons from those experiences.
3.1.1. Reading about other companies makes me a better decision maker because it provides a store of analogies
4. IMITATION
4.1. When faced with uncertainty and environmental turbulence, some business leaders emulate the strategies and practices of other highly successful firms.
5. RULES OF THUMB
5.1. Managers cope with ambiguity and complexity by adopting a rule of thumb, or heuristic, to simplify a complicated decision
5.1.1. They do not apply equally well to all situations – there are always exceptions to the rule.
6. REFORMULATION
6.1. Redefining a serious challenge as a series of smaller problems enables people to make decisions more manageable. They can adopt a strategy of "small wins" in order to build momentum and make steady progress toward achieving the overall objective
6.1.1. The risk associated with a "small wins" strategy is that leaders might choose to make incremental adjustments in a firm's strategy, while missing the opportunity and the necessity for more radical changes
7. DEFERENCE TO EXPERTS
8. RIGOROUS DEBATE
9. EXPERIMENTATION
9.1. they stage a small test, gather feedback and adjust their strategy based upon what they have learned. They may run a second experiment at that point, or managers could decide to make a much bolder move
10. PROCESS EVALUATION
10.1. Managers must develop a repertoire of strategies that they can employ under these conditions. Moreover, they need to develop their management team's capability to utilize these practices and techniques