Theme: ANIMALS
by MARIA PALMER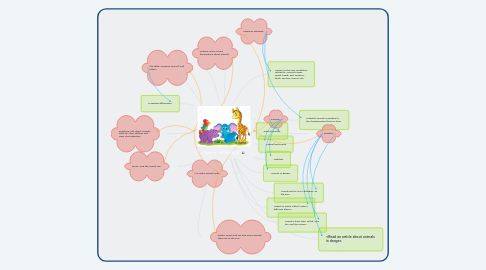 1. Art: Make animal cards.
2. Listening activities:
3. Music: Sing the animal rap.
4. Life skills: Knowing yourself and others.
5. Accepting differences.
6. >Listen to the new vocabulary related to "animals":Bear, camel, lizard, owl, penguin, shark, sea lion, toucan, etc.
7. >Identify animals according to the characteristics that you hear.
8. Reading:
9. >Read a short story called "The lion and the mouse".
10. >Read an article called "Pets in different places".
11. <Read and act out a dialogue "at the zoo".
12. Maths: Count and say how many animals there are at the zoo.
13. Science:
14. -Kind of animals
15. -Animal body parts
16. -Habitats.
17. -Animals in danger
18. Speaking: Talk about animals' hábitats, their abilities and main characteristics.
19. Writing: write a short descriptions about animals.
20. <Read an article about animals in danger.