Messi
by A41208นายนวรัตน์ สุขสุด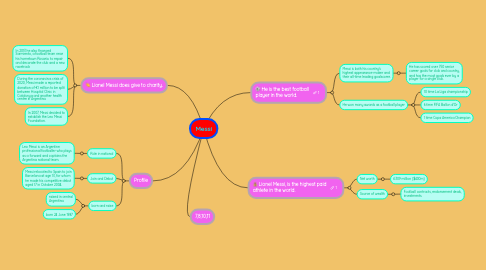 1. He is the best football player in the world.
1.1. Messi is both his country's highest appearance-maker and their all-time leading goalscorer.
1.1.1. He has scored over 750 senior career goals for club and country, and has the most goals ever by a player for a single club.
1.2. He won many awards as a football player
1.2.1. 10 time La Liga championship
1.2.2. 6 time FIFA Ballon d'Or
1.2.3. 1 time Copa America Champion
2. Lionel Messi, is the highest paid athlete in the world.
2.1. Net worth
2.1.1. £309 million ($400m)
2.2. Source of wealth
2.2.1. Football contracts, endorsement deals, investments.
3. Lionel Messi does give to charity.
3.1. In 2013 he also financed Sarmiento, a football team near his hometown Rosario. to repair and decorate the club and a new racetrack
3.2. During the coronavirus crisis of 2020, Messi made a reported donation of €1 million to be split between Hospital Clinic in Catalunya and another health centre in Argentina.
3.3. In 2007, Messi decided to establish the Leo Messi Foundation.
4. Profile
4.1. Role in national
4.1.1. Leo Messi is an Argentine professional footballer who plays as a forward and captains the Argentina national team.
4.2. Join and Debut
4.2.1. Messi relocated to Spain to join Barcelona at age 13, for whom he made his competitive debut aged 17 in October 2004.
4.3. born and raise
4.3.1. raised in central Argentina.
4.3.2. born 24 June 1987
5. 7,8,10,11