EXPLAINING SECOND LANGUAGE LEARNING
by Javier Serrano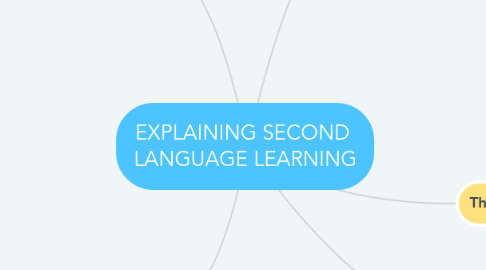 1. Krashen's monitor model
1.1. Influenced by Chomsky's theory
1.2. the Acquisition-Learning hypothesis; the Monitor hypothesis; the Input hypothesis; and the Affective Filter hypothesis; the Natural Order hypothesis
2. Behaviourism
2.1. Skinner & Watson
2.1.1. behaviors are learned from the environment
2.1.2. Language as a cognitive behaviour
2.1.3. Imitation
2.1.3.1. Children acquire language by reproducing what they hear
2.1.4. Positive Reinforcement
2.1.4.1. Children acquire language because they are rewarded and corrected by adults
2.1.5. Negative Reinforcement
2.1.5.1. Children acquire language because they are not rewarded and make an effort to reach the objective
3. The innatist perspective
3.1. Chomsky
3.1.1. Language adquisition device
3.1.1.1. The language acquisition device is assumed to be a biologically based innate capacity for language
3.1.2. Language is an innate faculty
3.1.2.1. Children have the innate biological ability to learn language
3.1.3. Critical period hypothesis
3.1.3.1. States that the first few years of life individuals can acquire a first language if presente the adequate stimuli.
3.1.4. Universal Grammar
3.1.4.1. All children are born with innate capacity to build correct gramatical structures.
4. Cognitive perspective
4.1. Jean Piaget & Brunner
4.1.1. Construction of the world through experience
4.1.2. The Sensorimotor Stage The Preoperational Stage The Concrete Operational Stage The Formal Operational Stage
4.1.3. Language emerge form language use
4.1.3.1. Mental Function
4.1.3.2. Mental Process
4.1.3.3. Inner mental Activities
5. The sociocultural perspective
5.1. Vygotsky's theory
5.1.1. Influence by the enviroment and others
5.1.2. Language is only acquire by interaction with others
5.1.3. Children needs guidness
5.1.3.1. Zone of Proximal Development
5.1.3.1.1. Krashen's i+1.
5.1.3.2. Scaffolding