CONDITIONALS
by Anaurelis Valderrama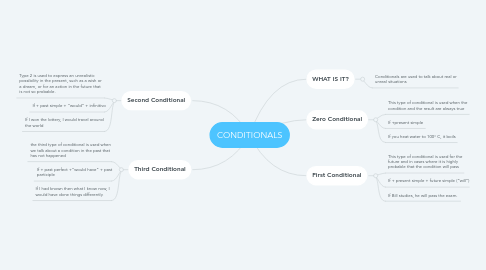 1. WHAT IS IT?
1.1. Conditionals are used to talk about real or unreal situations
2. Zero Conditional
2.1. This type of conditional is used when the condition and the result are always true
2.2. If +present simple
2.3. If you heat water to 100° C, it boils
3. First Conditional
3.1. This type of conditional is used for the future and in cases where it is highly probable that the condition will pass
3.2. If + present simple + future simple ("will")
3.3. If Bill studies, he will pass the exam.
4. Second Conditional
4.1. Type 2 is used to express an unrealistic possibility in the present, such as a wish or a dream, or for an action in the future that is not so probable.
4.2. If + past simple + "would" + infinitivo
4.3. If I won the lottery, I would travel around the world
5. Third Conditional
5.1. the third type of conditional is used when we talk about a condition in the past that has not happened
5.2. If + past perfect +"would have" + past participle
5.3. If I had known then what I know now, I would have done things differently.