Interactive Assessment in an ESL Classroom
by
Nicole Tavares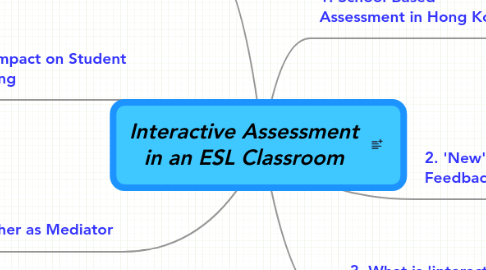 0.0
stars -
0
reviews range from
0
to
5
Interactive Assessment in an ESL Classroom
This is just a demo map that you can delete right away, if you feel like it...
1. School-Based Assessment in Hong Kong
Assessment for Learning (Black & Wiliam, 2004)
10 AfL Principles
Assessment Reforms in 2005
SBA Handbook, 2009
4. Teacher as Mediator
Vygotsky, 1978
'mediated assistance'
'more capable partner'
Campione, 1989
Swain, 1984
'bias for best'
Lantolf & Poehner, 2004; 2005
Interventionist Approach
Interactionist Approach
Wiliam, 2005
'Move learners forward'
Rea-Dickins, 2006
'nurturing' language development
Davison, 2007
'partners in the assessment process'
Leung, 2007
'a pro-learning form of assessment'
'joint accomplishment'
5. Impact on Student Learning
6. Teacher Capacity-Building
2. 'New' Notion of Feedback
Stiggins, 1998
'educative assessment'
Wiggins, 2004
'assessment as feedback'
Cowie, 2005
'feed-forward'
3. What is 'interactive assessment'?
1. What is 'Interactive Assessment' (IA)? 2. How is IA understood in Hong Kong secondary schools? What do local English teachers know and now know about IA? 3. What are the factors that influence teachers' ability to assess interactively? What do teachers (not) focus on during the assessment? Why (not)? 4. What does effective IA look like in the ESL classroom in Hong Kong mainstream schools? What are the models of good practice of IA in enhancing learner performance in the linguistic and cognitive domains? 5. What is the relationship between teachers' use of IA strategies and student learning? How can the impact of IA be maximised? What are the implications at the teacher, team and school-based levels?