005- How to Sell on Etsy - Micro Niche
by Burak Seyman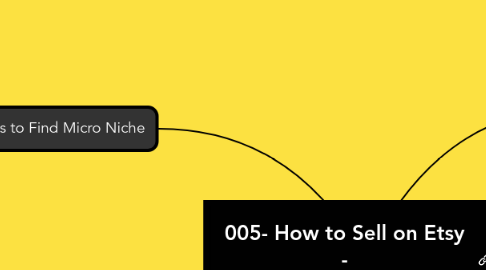 1. Micro Niche
1.1. It's a sub-niche within a niche.
1.2. Category: Pet supplies Sub-category: Pet apparel Niche: Dog accessories Sub-niche: Customizable dog tags
1.3. Represent a small part of the broader market.
2. Advantages
2.1. Identify target audience easier
2.2. Meet your customer's specific needs
2.3. Become an expert for your niche product
2.4. Stand out from the competitors
2.5. Build credibility
2.5.1. Grow your social following
2.5.1.1. Become an authority brand faster
3. Successful Shop Examples
3.1. TheLandlockedDogTwo
3.1.1. Custom stamped dog tags
3.1.1.1. 64.464 sales
3.2. GracePersonalized
3.2.1. Personalized rings and necklaces
3.2.1.1. 287.307 sales
3.3. EnjoyTheWood
3.3.1. Wood world maps
3.3.1.1. 66.168 sales
4. The Questions to Find Micro Niche
4.1. Are you passionate about a specific topic?
4.2. What type of audience would like to work with?
4.3. Do you have a specific market you want to target?
4.4. What can you make that solves a problem or serves a specific purpose?
4.5. What types of products can you make that will be unique?
4.6. If you want to create a product that you know is in a saturated market, what can you do differently to outperform your competitors?